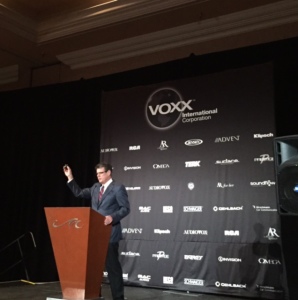 The last few days were like Christmas eve for Gadgets. Yesterday at Press Day I was mesmerized by the president of Tom Malone of Voxx International (Audiovox).  Tom talked about the breadth and depth of this conglomerate's portfolio.
In the humble opinion of this writer, the crown jewel of Voxx's cornucopia of products is the 360 Fly. The 360Fly Camera is like no camera you've ever seen before. Able to capture your active day in a 360º horizontal and 240º vertical plane. Although simple sounding, it allows you to look at your video from a multitude of angles every time. Imagine looking at your Hawaiian vacation surfing video. The first time you look at the people in front of you. The next time you watch the same video and see the kid beside you falling off the board. Another time you show the video and look at the guy behind you being chased by a shark. A different perspective on social video has given us all a different angel on life.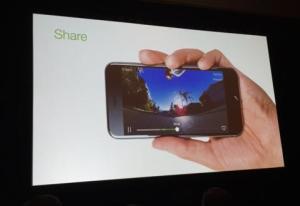 Like a proud father, Malone expressed his pride for this truly revolutionary technology that will shock the action camera market. "We believe that 360Fly will change the way consumers view video forever, making their footage more compelling, engaging and immersive than ever before"
This action camera is waterproof up to approximately 16 feet, comes with 16GB of internal memory, an f/2.5 lens, an integrate mic and a 1,504 x 1,504 1/2.3-inch CMOS sensor. Having a battery life of 2 hours in HD, the camera passively collects video. The Voxx mantra for this mesmerizing device is Shoot, Share and Swipe in 360.
For more information or to purchase the 360Fly