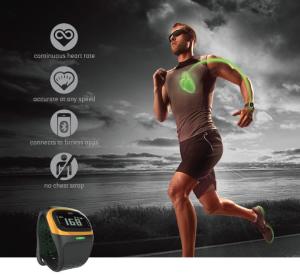 One of the pillars of CES this year is wearable technology. One of the main components of this is Wearable Fitness and Sports Technology.
Positioned as one of the David's in this market that are ready to slay the Titans, West Coast Canadian technology firm Mio Global has launched a variety of products. At CES 2015 we had the pleasure of talking with Liz Dickinson, Founder & CEO of Mio Global and her team about her company's strategy in this highly competitive market and about their release of the award-winning fitness product  Mio ALPHA 2.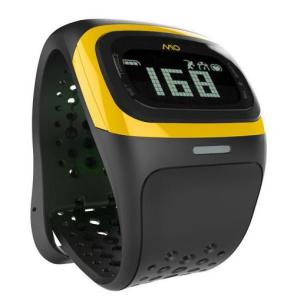 The Mio ALPHA 2 is the Worlds first continuous heart rate sports watch without a chest strap. The Mio ALPHA 2 heart rate sport watch features Mio's patented optical heart rate monitor, as well as an internal accelerometer for pace, speed and distance measurements without the need for a smartphone connection.  The Mio ALPHA 2 also provides accurate calorie burn estimates and can store up to 25 hours of workout data.
Dickinson is the perfect leader of Mio as she speaks from the heart. She cherishes the challenge of being in competitive market and more importantly loves how her company can influence athletic behavior and lifestyle change.
Wearable technology will no doubt be one of the hottest sectors at CES this year.  I am excited to be showcasing Mio's latest innovations including our new ALPHA 2 and FUSE – giving people access to a complete picture of their activity level and workout data
The Mio Team indicated that heart rate monitoring is critical as heart rate training is the single most important metric you can track in order to understand how your body is responding to exercise.
As an athlete I must understand when i train at a level, I may be exceeding my lactate threshold. This is especially important for athletes who are just getting off the couch and are trying to do too much to quickly by pushing themselves too hard.
The Mio ALPHA 2 allows you to Train with your heart by monitoring and improving thresholds. It is very comfortable, easy to wear, water resistant (up to 30m) and accurate at high speeds. Via two-way Bluetooth connectivity it syncs up with your phone and allows you to track your information through well known Compatible Smart Fitness Apps.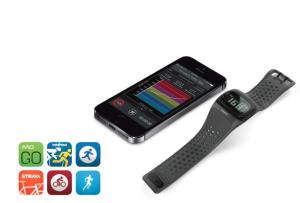 Features
Soft silicone strap
Mio Global App: select iOS, Android, and Windows smartphones
USB charging dock with magnetic alignment
Rechargeable Lithium battery
Continuous heart rate taken at wrist, no chest strap required
EKG-accurate at performance speeds
Customizable heart rate zone
NEW! User control for heart rate zone alerts – turn audible
beep on or off
NEW! 2-way transmission using Bluetooth Smart (4.0) – send heart rate data to fitness apps and also transmit pace and distance from mobile apps back to watch
NEW! Customizable display using Mio GO app
NEW! Back light
NEW! 24 hour memory – heart rate data is stored and can be synched later to smart phones
NEW! Two types of timers plus chronograph
 NEW! 12-hr or 24-hr clock
Workout summary data review
Water resistance: 30m (3ATM)
For more information or to acquire: The Mio ALPHA 2