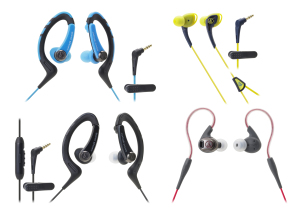 At CES we see technology that helps you to transparently cross boundaries in your life. A perfect example the SonicSport® headphones.
Created by Audio-Technica, these headphones are ready to take you from your challenging daily office regimen to the physical intensity of your physical work out with audio-precision enveloped in a super comfortable and stylish design. The SonicSport headphones are perfect in providing a secure comfortable fit while delivering that boost of musical energy to help you exceed your workout requirements.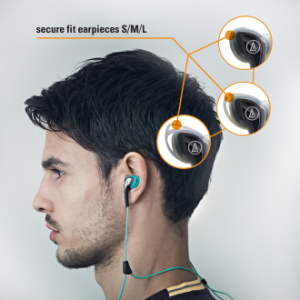 A balanced mixture of Audio exuberance, Fashion exuberance and Athletic Design excellence. At CES Audio-Technica put this journalist through a intense 15-minute Find Your Fit work-out session with their SonicSport® headphones. These headphones are very light, stay securely in place during our movements and are designed for the athlete in mind.
Features such as the extra-comfortable ergonomic design, IPX5 Lab Certified waterproof, flexibhttp://newgizmoblog.com/wp-admin/post.php?post=4658&action=edit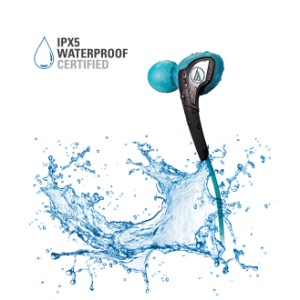 le memory cables and interchangeable ear-tips ensure that you can focus more on the intensity of your activity and less on the fit and sound of your headphones. Audio-Technica has released a variety of SonicSport® headphones including the ATH-SPORT2 and ATH-SPORT3, in-ear headphones or the ATH-SPORT1iS & ATH-SPORT1 headphones designed for use with smartphones.
All four headphones are designed to stay in place even during active exercising and are sweatproof and washable with an IPX5-lab-certified rating.
Features
Ideal for active use, jogging, sports
Lab tested and certified IPX5* waterproof rating allows headphones to be washed after use
Secure fit earpieces (S/M/L) provide stay-in-place comfort
Asymmetrical cable design keeps cable out of the way and helps prevent tangles, while included clip allows cable to be securely fastened to clothing
Angled housings direct cords behind neck
For more information or to acquire: SonicSport® headphones by Audio-Technica
About Audio-Technica
Celebrating over 50 years of audio excellence, Audio-Technica is renowned worldwide for a broad range of consumer and professional audio products, including high-performance headphones, microphones, wireless systems, turntables and phono cartridges. Winner of numerous industry awards, Audio-Technica designs and manufactures products that set quality, durability and price/performance standards for major concert tours, broadcast and recording studios, corporate and government facilities, theaters, house-of-worship venues, and consumer applications. Learn more at www.audio-technica.com.