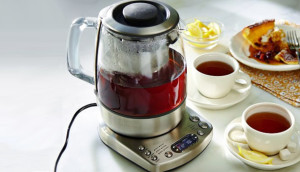 In my family, the daily practice of drinking tea is not so much a scheduled event as it is a sacred ritual. Every day at three thirty o'clock in the afternoon, my father will bring a pot of water to a rolling boil on the gas stove, use some of that water to heat the tea pot, empty the tea pot of water, allow the tea bag to sit in the warm pot to pre-release its flavor, and then immerse the bag in heat. That pot will sit for no less than three minutes until it has reached a specific shade, be stirred in a clockwise direction twice and then poured after the bag is removed. Rarely does this ritual change. For example, the use of tea bags instead of leaves are the most relatively recent addition to the process and were only added thirty-eight years ago, a few years after my parents immigrated to Canada. For the forty years before that, only tea-leaves were used. I think my father was a tea master in his previous life.
However, with the Breville One Touch Tea Maker, my dad just might be willing to shake things up a bit. Now that he is a senior, and technology has advanced to this degree, he might be willing to concede that, with a touch of a button, a machine is fully capable of meeting his exacting tea standards.

The Breville One Touch Tea Maker infuses tea -leaves with precision. As an automated basket moves up and down, it gently immersing  the leaves the water, allowing them to release their flavour. The One Touch Tea Maker is programmable to an exact water temperature so that maximum flavor is achieved through  the specific brew times required for Black, Green, White and Oolong teas. There is a timer which makes it possible to wake up to perfectly steeped cup of tea for those who like  their 'cuppa' first thing in the morning.  And, with the German Schott made durable and stain resistant kettle, this tea maker almost cleans up after itself.
There just might be a space on dad's counter for this NewGizmo gadget!
Features and Specs:
Dimensions: 9 x 7 x 11.8 inches
Weight: 1 pound

Tea Basket Cycle – Auto Lowers and Lifts

Auto Start

60 minute Keep Warm feature

Variable temperature control

Time Since Brew – LCD timer to monitor freshness
Specs: Breville One Touch Tea Maker