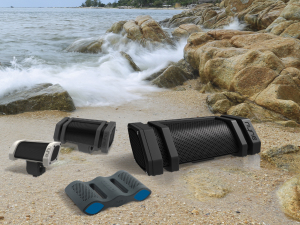 The technology found at CES 2015 reaches into every aspect of our life. Following this trend, California-based BOSS International Group (BIG) has released a line of lifestyle inspired audio accessories. Their latest versatile speakers are the Edge, Verge and Rock. Designed to keep up with you, these three speakers can be taken almost everywhere.
The Edge and its smaller sister Verge are designed for active cyclists consumers on the go. Both come with handlebar mounts and LED lights so that while you are rocking to the tunes on your bike, Edge and Verge can show you the way.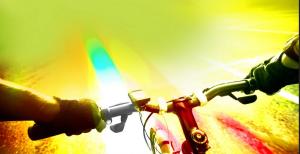 The Rock is designed for the outdoor enthusiasts. Designed for camping, outdoor parties,  beach fun and even canoeing. IPX7 waterproof rated, these speakers will continue to sing, even if they accidentally take a dip. The Rock comes with a rechargeable battery and 50-watt power rating with a pair of stereo drivers, two tweeters and an active woofer which makes it ideal for outdoor settings. An in-built carrying handle and four international power adapters makes this speaker highly portable and extremely accessible.
Features
Bluetooth 4.0 for wireless streaming from mobile devices
NFC (near field communication) for easy one-tap connections
Microphone for hands-free calling
USB power bank to charge mobile devices
3.5mm aux input
Up to 12 hours of battery life
Available at retail in early second quarter 2015
For more information or to acquire: NYNE IPX Water Resistant Bluetooth Speakers