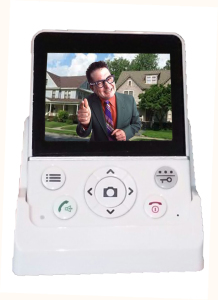 The iCreation Wireless Video Doorbell is a wide angled HD video, smart audio and video greeting and recording device that will ensure you will not miss visitors, unless you really want to. In December, Christmas came early Gizmo style with the arrival of the iCreation Wireless Video Doorbell . This gave some of the reviewers at New Gizmo Blog the opportunity to take this device for a test drive.
We asked three ordinary professionals: a university professor, a retired principal and a computer networker (our geek) to take this wireless video doorbell for a drive and to give us feedback.  In the end they were to provide us with an overall evaluation on the products features, cost, user friendliness and software integration.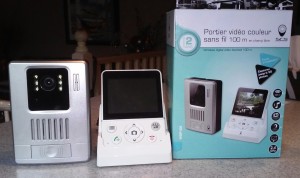 Just out of the box the iCreation Wireless Video Doorbell
User Friendliness:
Overall our gizmo test drivers rated the User Friendliness of the iCreation Wireless Video Doorbell to be in the very good rating. One comment was provided by our toughest evaluator, the retired principal (over 70)
"The Wireless Video Doorbell is so easy-to-use. For seniors, devices that take time to either set up or learn are frustrating"
Whether an experienced gadgeteer or newbie, the iCreation Wireless Video Doorbell is very easy to use.  The DIY installation instructions for the device out of the box are simply:
Unpack the Video Doorbell
Charge the receiver right out of the box (15 hours initial charge).
Drill holes outside and install screws (provided) in the outdoor station
Make sure the outdoor station is set to the correct viewing level
Install the batteries into the transmitter
Once charged, pair the receiver and transmitter
Install the Video transmitter in the outdoor station.
Installation is under 10 minutes (not including charge time). Tools required are simply a pencil (to mark the holes), drill and screw driver.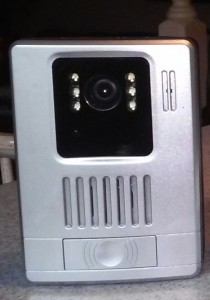 Drill a few holes for the outdoor station, turn a few screws and you are ready to go.
Although the iCreation Wireless Video Doorbell is very easy to operate, a challenge faced by our elderly reviewer was installing the outdoor station at the correct height so that the person using it can be seen with the wide angle lens. Although not an issue with the product it is a caveat that any consumers should be careful when utilizing.
Product Features:
Dimensions:

Indoor Monitor (Receiver): 87 mm x 116 mm x 28 mm
Outdoor Monitor (Transmitter): 97 mm x 134 mm x 40 mm

Frequency 2.41 – 2.47 Ghz
Display: LCD Color 2.4", 320 x 240
Power (Battery) requirements:

Indoor Monitor (Receiver): 3 NiMH 1.2V batteries (included)
Outdoor Monitor (Transmitter): 6 1.5V AAA batteries

Waterproof(IP55)
Night Vision: IR LED lights for night vision
Photo Capture – up to 50 images
Viewing angle – vertical 460, 590 horizontal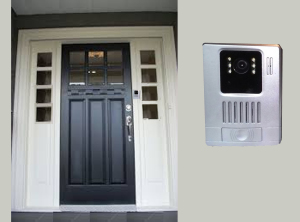 The subtle grey allows the transmitter to blend in with the exterior of your house

The features on the Wireless Video Doorbell were very good for home use.  Operation of the device is simple with the large buttons. In addition to basic communication features, users are able to capture video and configure remote door opening. Brightness and talk volume are adjustable and the zoom feature can be leveraged for the arrival of couriers (to read id badges etc). Another feature the work at home network engineer liked was the Undisturbed Mode. This option at a hold of the button disables communication between the receiver and monitor for five minutes. You can bet I will be utilizing this function to frustrate solicitors, door to door salesmen and election campaigners.
There were no hardware issues with our evaluation of the product.  The battery life and functioning of the product in the extremes of the Canadian winter were excellent. During our trial period we encountered temperatures consistently under -20.
One suggestion provided by two of our reviewers for future development was that the designer should consider providing an option to upload video's either via USB or to the cloud for security purposes. (Update note from iCreation – At CES they introduced a system that does upload to cloud for viewing.  They anticipate having something to test sometime in the 2nd quarter.)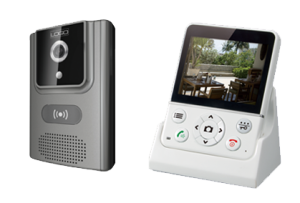 Cost:
It is expected to be released at retail at a $230 USD price point which is meager compared to some of the competitive solutions ($300 to $500). Given current cost alternative monitoring solutions (monthly) combined with other DIY monitoring solutions, this would make a more cost effective alternative.
Bottom Line
We loved iCreation Wireless Video Doorbell . This product is very easy to install and easy to use. We tested it outside the recommended operating temperature at -20 and it worked without out hitch. The only caveat for North American readers is this device is it is currently only available in Australia, New Zealand, Japan & France.  It is expected to hit the North American markets in early 2nd Quarter.  Queries on the iCreation Wireless Video Doorbell can be directed to sales@icreation-USA.com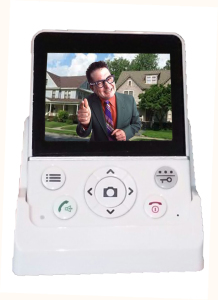 The iCreation Wireless Video Doorbell will have you saying Bye Bye to Door to Door salesmen
About the company
iCreation Inc. is a technology innovation company of Xingtel International Inc., with it's headquarters in Markham, Ontario Canada. They design, manufacture and distribute a broad range of wireless connectivity products. The management team consists of enthusiastic entrepreneurs with management experience in the telecommunication industry for more than 25 years. iCreation TM covers more than 35 countries and regions.
Shane Fernandes is the Chief Technology Officer of California based IP4Group and is responsible for the corporation's strategic leadership and technical direction. Fernandes has over 20 years of experience as the architect of innovative IT solutions for companies in the Telecom sector.
As co-editor for New Gizmo Blog, Fernandes is responsible for overseeing the online publication's content, growth and direction. Shane is passionate about digital technology and enjoys predicting the next big, disruptive and mind-blowing trends. As a regular columnist for New Gizmo Blog and Gadget Grid he has written and reported on a variety of digital related subjects. He also speaks to groups on the next big emerging trends.