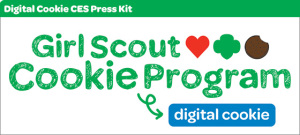 Last week, many new products and services were introduced at CES that touch the heart of our lives. However I have to say one of surprises of the show was running into a booth full of enthusiastic young girls and their leaders.
Yes the Girl Scouts of Southern Nevada had a booth at CES. Curious as to why they were at CES, i talked with Kesha Dirkson, the Chief Fund Development and Marketing Manager.  Ms Dirkson indicated
The Girl Scout  of America movement has gone online.  We hope to reach consumers online with our various activities including our Girl Scout Cookie Program
After years of prohibiting Internet sales, the Girl Scouts of the U.S.A., has approved "Digital Cookie," The online Digital program teaches these young women entrepreneurship, basic business and some computer skills. Using the Digital Cookie web platform, girls can customize their own cookie website by sharing goals, what they learn through the program, and more.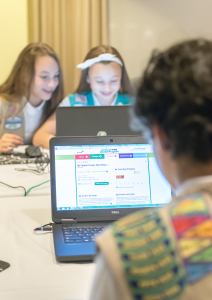 The program is designed taking into consideration rules of cyber security. The customizable websites are only accessible by email invite only. Personal information is as protected for both the scouts and customers.  Encryption of data is utilized in some cases
Talking with some of the young ladies it was not difficult to see that they loved the program and were looking forward to raising some dollars for the organization.  One girl scout commented
Going Digital will make it easier to reach a lot more people and raise more money.  I can contact friends and family where I was not able to with door to door sales.
I loved that the cookie program has gone New Gizmo.  However knowing how much I love the Girl Guide cookies, it will mean bad news for my six, i mean twelve pack.  Perhaps a follow up program for these young ladies would be to offer a cardio program for their top supporters. Here's wishing these ladies success.  New Gizmo readers, I encourage you to go online and support this worthy cause.
For more information on the Girl Scout Digital program  www.girlscouts.org/digitalcookie