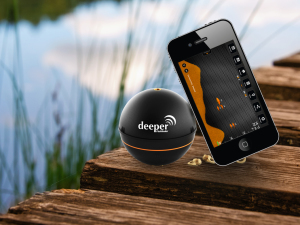 There are Gadgets available for every activity and lifestyle, so very little surprises and shocks me in terms of Gizmos and Gadgets.
However at CES, one of the surprise finds of the show was seen in a small booth in the Venetian. Here I had the pleasure of meeting Aurelijus Liubinas from Friday lab and his small but powerful product. Like a proud father talking about his son's accomplishments Aurelijus is very passionate about fishing and about his product.
The Deeper Fishfinder, is a small, portable wireless sonar. Sonar devices are a well part of the fisherman's toolbox, however what makes this device unique is that it is a one of a kind portable
wireless device that is built into a Fishermans Bobber. At only 0.22lb/ 100grams and 2.6″/ 65mm diameter, it fits into your tackle box. And once you cast your line, it will provide you the latest up to date reports on to your smart phone, tablet or any other device. Compatible with both Android and IOS, it provides you with accurate information. Revealing more than just the fish species, you will get important data such as water temperature, depth and a detailed view of the bottom terrain.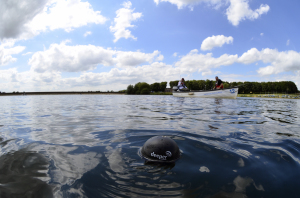 Deeper uses Bluetooth to transfer sonar readings between the device and your smart phone. That means you can get data up to a range of ~140 ft – 160 ft/ ~40-50 meters depending on the OS and smartphone model.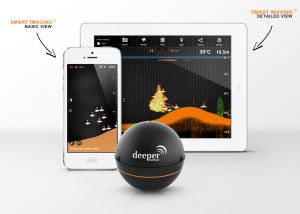 The features I love the best about the Deeper Fishfinder is that you don't need a boat to use it. Whether in a boat, casting from the dock or shore line, you too can have the latest info to catch that big one. Deeper is very easy to use and you can catch and share with the other community online.
One thing is certain this Fishfinder is great news for the Gizmo Fisherman, but bad news for the fish species.
Features
Size: 2.6″/ 6.5 cm diameter
Weight: 0.22 lb/ 100 grams
Compatibility: From iOS 5.0 and Android 2.3 to the latest iOS and Android devices
Construction: ABS
Connection: Wireless Bluetooth connection
Range: Up to ~140 ft – 160 ft/ ~40-50 meters. Depends on the OS and smartphone model.
Depth Range Max/Min: 130 ft (40 m) / 2 ft (0.5 m)
Battery: Lithium Polymer, 3.7V Rechargeable battery (Included)
Battery Life : Up to 4 hours
Sonar type: Dual beam
Color: Black
For more information or to acquire: Deeper Fishfinder