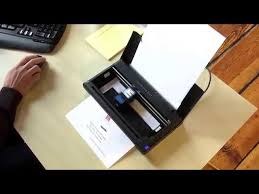 The saying that good things come in small package is totally incorrect in reference to technology. The truth is if you look hard enough you will find small Gadgets and Gizmos that are absolutely amazing.
Take for example the Primera Trio All-in-One (AIO) portable printer. Amongst the noise of technology I was lucky enough to see this jewel at ShowStoppers in #CES2015.Self proclaimed to be the world's Smallest and Lights AIO and this year's winner of the Innovation & Design Award at the ShowStoppers #CES201 , at only 2.6 lbs and just slightly bigger than the palm of your hand,
this printer literally can be taken anywhere. Don't let the size of this Gizmo fool you. Capable of supporting the identical functionality of its full-sized deskjet competitors, it can print on to full
size sheets of A/A4 paper, 4″ x 6″ borderless photos, card stock and even onto specialty media such as labels and postcards.  This All-In-One device is also compatible with both Windows and Mac Operating Systems.
Having fought the line-up many a time at hotel business centers, I know how that it can be time consuming, the quality is now always there and the end result can be truly frustrating.  With the Primera Trio AIO, you can turn your travel bag into a results-driven work environment with a scanner, printer and copy machine.
Available in a variety of colors, small enough to fit into your carry on and more than capable of meeting your print, scan and copy needs. What else could you ask for?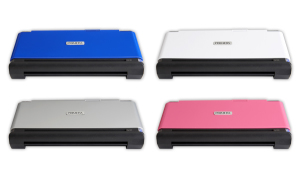 Features
DIMENSIONS 11.4"W x 1.8"H x 6.5"D
WEIGHT: 2.6 lbs
COLORS: black and dark Grey, pink, blue, white, silver
MEDIA SIZES SUPPORTED Letter, legal, folio, A4, A6, 4" x 6" photo, U.S. #10 envelope, hagaki, custom
PAPER HANDLING Up to 10 sheets input tray. Input slot on the back for feeding and printing onto light cardstocks.
All-IN-ONE FUNCTIONS Print, Scan, Copy
PRINT RESOLUTION Up to 4800 x 1200 dpi
COPY RESOLUTION Up to 600 x 600 dpi color and black
SCAN RESOLUTION Hardware: Up to 600 x 600 dpi, Optical: Up to 600 dpi
PRINT TECHNOLOGY Thermal Inkjet
TWAIN VERSION Version 1.9
MINIMUM SYSTEM REQUIREMENTS (Windows®):

Vista™, 7, 8, 8.1 with latest service packs
Intel® Celeron® processor or faster (or equivalent)
2GB RAM
1GB hard drive space
CD/DVD drive if installing software from disc

MINIMUM SYSTEM REQUIREMENTS (Mac®)

OSXv10.6 or higher
2 GB RAM
1 GM hard drive space
CD/DVD drive if installing software from disc
USB 1.1 or higher
For more information or to acquire: The World's smallest & Lightest All-in-One Portable Printer by Primera Trio