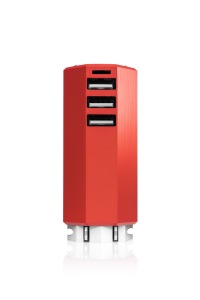 Once again Technology proves that size does matter.  Gadgets keep getting smaller and smaller while bulky hardware is becoming as extinct as the do-do bird (or VHS tapes).  CES is a wonderful place that exposes your technological hardware obsolesce to the masses, where you are easily schooled and corrected for your poor selection in Gizmos and Gadgets.
At the PEPCOM show in CES 2015 my technology portfolio was Zolted into submission. James Patriquin, Senior Director with Zolt, took one look at my press kit, filled with cables and adapters and told me that I could easily make room in my travel kit with the revolutionary Zolt Charger Plus.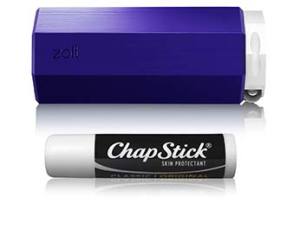 Winner of the 2015 CES INNOVATION AWARD, at 3″ in length, just over 1″ in diameter (slightly bigger than a chap stick) and weighing at a measly 3 oz this deceivingly small device can charge (most) laptops or ultrabooks and two universal devices (ie my tablet, smartphone, Bluetooth speaker) easily. Zolt can even power your GoPro, portable speakers, camera and more.
How does it do it you ask? Well although this device is 4x Smaller. 3x lighter than traditional charging "bricks" (Yes James referred to my charger as a Brick)  Zolt provides 70W of power for 110V to 240 V devices in an intelligent, streamlined manner.
In short, small, lightweight, powerful and gets the job done. What else could we ask for? Well, if this wasn't enough, Zolt is now available online for pre-order at $79.99 ($20 less than full price).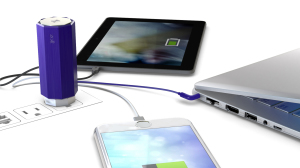 Features
Length: 3″/ Diameter: 1.3″
Weight: 3oz.
Powers: 1 Laptop plus 2 USB devices simultaneously.
Includes 6-foot PC charging cord and 7 universal PC tips.
Rotates up to 90º to squeeze into tight spots.
Power output: 70W.
Voltage: 110V to 240V.
Colors: Ultra Violet, (coming soon) Graphite and Electric Orange
Compatible with most laptops and ultrabooks
For more information or to acquire: Zolt Charger Plus