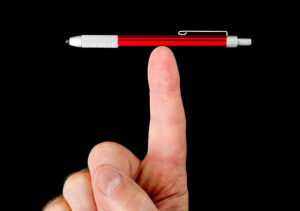 Gadgets and Gizmos make our lives easier. Whether it be the ability to find information or perform tasks quicker, there are obvious benefits to technology.  Unfortunately sometimes technology has it down side.
Take for example the art of cursive writing or hand writing. It is well known that many school kids today do not know the skill of hand writing and find it difficult to put pen to paper. Good news is that talking with some educators, they indicate after a long absence of neglect within the educational system, attention to the skill of hand writing has finally returned.
Looking at the importance behind hand motor skills, but not forgetting the benefits of leveraging technology, a California based company  has developed the Hand Stylus. This quality, high tech pen combines the styling of the selectable, extendable, non retracting rubber tips which enable the user to write or draw on a tablet or smart device.
Trying out the stylus the first time I was amazed at how light, accurate and easy it was to use. At 4mm the retracting, rotating, and replaceable rubber silicone tip provides a precise touch which is perfect for writing, sketching, taking notes, retouching photos, accepting credit card signatures, or making presentations or even playing games.  Although the tip on the stylus is small, it does not need to be replaced often.  The tip rotates each time so it wears more even.  However it can be easily removed and replaced.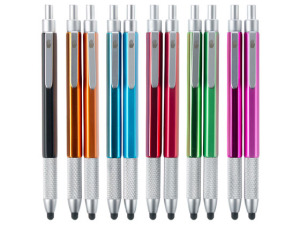 Although the design and engineering behind the product is extremely well thought out,  what makes this device unique is the Hand Stylus team behind it. Christine Golsalves (Co-founder), talked about the commitment they have  to creating a product that is not only amazing technologically but also makes an imprint in society. The product and company do this in many ways. The  Hand Stylus and its packaging are made from recycled or easily recyclable materials, The company also purchases carbon credits to offset our use of nonrenewable energy.  The  Hand Stylus Team is also looking to impact the next generation of technologists. Ms Gonsalves talked about how  Hand Stylus has partnered with a classroom in order to help students to continue to develop their hand writing and drawing skills.
Investing in our future to ensure the educational success of our nation's young people through programs such as this is important for our company.
Combining technologically well designed products like the Hand Stylus with traditional skills is a combination that lead meaningful progress in improving our youth's educational outcomes.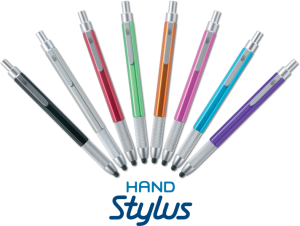 Features
Dimensions: 0.4 x 0.5 x 5 inches
Colors: Blue, pink, Orange, green, Red, black, Silver, purple
Compatibility: Hand Styluses work well with most Apple, Android, Kindle, Nexus, Nook, and Windows touch-screen devices.
Material: Barrel is made from aerospace-grade anodized aluminum
For more information or to acquire: Hand Stylus