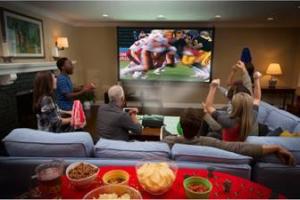 A stunning view of SuperBowl XLIX with the Epson Home Cinema 3500
Watching SuperBowl XLIX on Sunday, we will be amazed by the dazzling skills of the players on both teams and forget the thousands of hours of work that these amazing athletes dedicated to their craft in order to reach this pinnacle.
The same can be said about technology. Although at the 2015 Consumer Electronics show there were countless televisions and many 4K projectors, very few truly came up with a flawless inexpensive solution for the average household. Up to the challenge Epson has exceeded our expectations with a technological vision that amazes home audiences. The Epson Home Cinema 3500 is a 2D/3D full HD 1080p 3 LCD Projector
Small and stylish enough to fit in your living room, basement, home theater or man cave, this stunning full HD projector will amaze you with its entertainment configuration. The images are life like, while the smallest of detail is enhanced.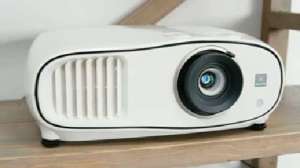 Watching sports you can see the difference with the Epson Home Cinema 3500 3LCD projectors. The colors of the grass, uniforms and even background are much more vivid. This is because the 3LCD projectors have up to 3x brighter colors. The super resolution with detail enhancement will ensure that even the details in the background will be crisp and sharp in the picture.
The Epson Home Cinema 3500 is very easy to set up. simply find the ideal place for the projector and utilize the vertical and horizontal lens shift to configure the projector. No external speaker attachment is required as there are two built-in 10 W stereo speakers that provide you with deep, life like sound. Attaching the Epson Home Cinema 3500 to your cable box, computer, DVD or any other device is as easy as directly connecting them to one of the HDMI, HDTV, Component video, NTSC/PAL/ SECAM, Analog RGB ports.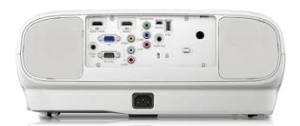 This SuperBowl have fun with your friends and family.  Enjoy the game and Exceed your Expectations and Vision with Epson.
Features
Dimensions: 16.1″ x 12.6″ x 6.4″ (W x D x H) – including feet
Weight: 14.9 lb
Color brightness: 2500 lumen
Contrast Ratio: 70,000:1
Power Supply Voltage: 100 – 240 VAC ±10% , 50/60 Hz
Display Output: HD, 2D, 3D, Full HD 1080p
Native Resolution: 1080p (1920 x 1080)
Resize: 16:10, 4:3
Lamp Type: 250 W UHE
Input Signal:
NTSC / NTSC4.43 / PAL / M-PAL / N-PAL / PAL60 / SECAM
480i / 576i / 480p / 576p / 720p / 1080i / 1080p
HDMI, HDTV, Component video, NTSC/PAL/ SECAM, Analog RGB
Speaker: Two integrated 10 W stereo speakers
Interfaces:
HDMI1/MHL x 1, HDMI2 x 1, Component video x 1, Composite video: RCA (Yellow) x 1, Audio in: RCA x 1 (White/Red), Computer: D-sub 15 pin x 1, USB connector Type A x 1 (for JPEG Slideshow, Wireless LAN, firmware update), Mini USB x 1 (service only), RS-232c, Trigger out
For more information or to acquire: Epson Home Cinema 3500