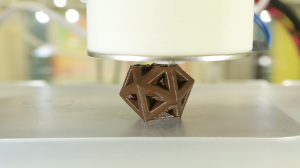 Making its 2015 Consumer Electronic Show debut this year was a delicious 3D printing creation. 3D printer technology has gone into many spaces. 3D printers are putting together creations in plastics, metals, resins, and any other materials. 
With Valentine's day around the corner, personalized Gadgets are the gift to say I love you from the heart. This year you can tell your special someone to bite you with the CocoJet 3D chocolate printer. Created by 3D Systems in partnership with The Hershey Company, CocoJet is a printer that prints in dark milk or white chocolate and works simply on your imagination.
Although targeted towards Chocolatiers, Bakers and Food professionals, the CocoJet 3D chocolate printer can be used by ordinary folk in combination with the ChefJet software to transform your ideas into a delicious reality.
For example you can scan your face, flowers, favorite dog, etc., edit the drawing and then print a customized Valentine's treat.  Someone I am a little unnerved about someone else biting into my face.
The timetable for CocoJet is still TBD, so stay tuned New Gizmo readers…
Features
Prints Dark milk or white chocolate
ChefJet software provide easy to design 3D confections
Prints 4 – 5 custom bite sized chocolates per hour
in combination with 3D scanning tech prints customized creations
Availability TBD
For more information or to acquire: 3D Systems CocoJet 3D chocolate printer