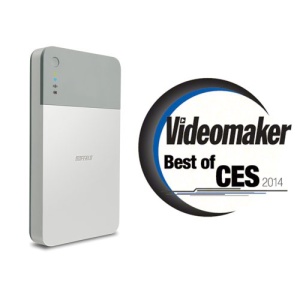 Buffalo Americas is looking to provide you a Valentine's day gift this year that streams to you from the heart. The MiniStation Air is a 1 TB portable Wireless hard drive that allows you to stream your favorite content to multiple devices at the same time.  It will allow 8 simultaneous wireless connections to stream music, movies and photos.
Winner of the 2015 Consumer Electronics Show (CES) Innovation Award, this Swiss army knife of portable storage solutions also can be configured as a Wi-Fi hotspot and doubles as a portable battery charger for your smartphone.
A great idea for family vacations that allow you and your kids to stream movies where ever you may be.  You can download MiniStation Air apps for free to run on your iOS and Android devices. There is also a USB 3.0 port for direct Mac and PC connectivity.
Small enough to slip into your purse or backpack, big enough to support your entire media library yet powerful enough to provide you with up to 12 hours of battery life on a single charge, the MiniStation Air is an ideal solution at a cost effective price point.
This Valentine's day, give the ultimate gift of love.  Share your personal photos, videos and music with the Buffalo Americas MinStation Wireless Portable Hard drive.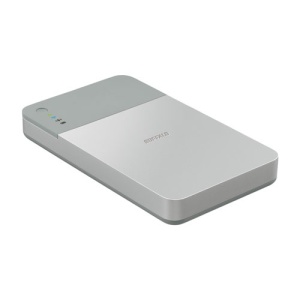 Features
Dimensions (L x W x H): 5.7 x 3.3 x 0.7
Weight: .6 lbs
Capacity: 1 TB
Power Supply: DC 5 V (Bus-powered), Lithium Ion Battery (Battery Powered)
Battery: 3020 mAh, up to 12 hours of battery life.
Charging Interface (Output): 5V, USB Type A
Interface: 1x USB 3.0
Data Transfer Rates: 5 Gbps (USB 3.0 Mode), 480 Mbps (USB 2.0 Mode)
Wireless Connectivity: IEEE802.11n, IEEE 802.11g, IEEE 802.11b
Drive Interface SATA 3.0 Gbps
Number of Drives 1
OS Compatibility:

Android 2.3 or later, Android 3.0 or later, Android 4.0 or later,
iOS 6.0 or later
Windows® 8.1 (32-bit/64-bit), Windows® 8 (32-bit/64-bit), : Windows® RT 8.1, Windows® RT, Windows® 7 (32-bit/64-bit), Windows Vista®, Windows® XP,
Mac OS® X 10.6 or later
For more information or to acquire: Buffalo Americas MiniStation™ Air Wireless Portable Hard Drive