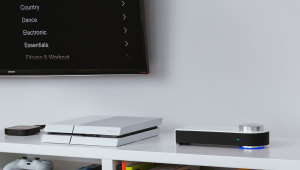 Griffin Technology helps to transform your Perfect Ten entertainment system into an Amazing Twenty.
Although much of entertainment technology is focused on the visual aspects of how a device looks and the display resolution or display quality. We quickly realize that the sound components are essential elements.
Take for example listening to the radio on your iPad, watching a movie on your 52″ television, playing the latest Adele music video on your smart phone. With inferior sound quality it is easy for you to realize that the visual aspect are irrelevant if there is no smooth, deep quality audio to back it up.
Our friends at Griffin Technology have always realized that quality audio is important.  The have updated and released the New Twenty Digital Audio Amplifier, with Bluetooth. Appropriately named Twenty because this device produces 20 watts per channel, the New Twenty connects to your speaker and allows you to stream music, audio, sound from any Bluetooth enabled device. This provides you with the ability to stream music throughout your home wirelessly and seamlessly for any Android or IOS enabled devices.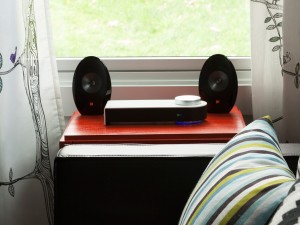 Setup of the New Twenty is very easy. You simply connect your speaker (or your new Griffin speakers) to the New Twenty speaker posts, pair your tablet, smart phone and you are ready to stream. The New Twenty also connects to other devices (television, computer, tuner, home theater, turntable etc) via the direct plug-in optical connections and also has a sub-out for you to connect your existing subwoofer.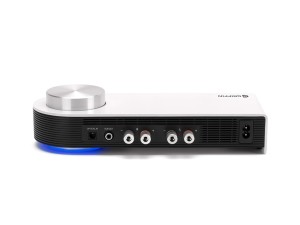 With Griffin's superior sound technology you can be ensured that your visual stimulus will be matched or even enhanced with smooth, superb, rich audio excellence.  Leave it up to Griffin Technology to transform your Perfect Ten entertainment system into an Amazing Twenty.
Features
Dimensions: 3.45″ x 12.88″ x 9.25″
Weight: 30 oz
Compatibility: Devices with Bluetooth
Class D Stereo Amplifier: TI PurePath
Input: S/PDIF optical, TOSLINK connector and 3.5 mm adapter (included)
Outputs: left & right channel connectors; RCA subwoofer connector
Bluetooth Specification Version: Bluetooth v3.0 + EDR
Range: 10 meters
AC Power: 100 to 240 VAC @ 50/60 Hz
For more information or to acquire: Griffin New Twenty Digital Audio Amplifier
About Griffin Technology
Founded on Paul Griffin's kitchen table in 1992, Griffin Technology Inc., is today one of the world's foremost creators of accessories for home, mobile, and personal technology. Unique products such as iTrip®, PowerMate®, iFM®, iMic® and Evolve® Wireless Speaker System have broken new ground in consumer electronics and created loyal fans the world over.