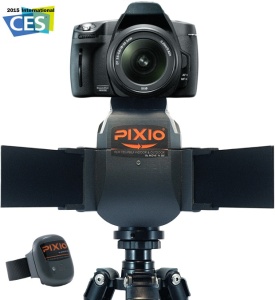 Unfortunately we all can't be like Justin Bieber and have a personal entourage or gaggle of Paparazzi following us around 24 x 7.  If I had a dollar for every time that I wished I had my own personal camera man.  Whether it be for sporting events, the Consumer Electronics show or even family events, there are many times where you need someone else there to take a photo or video.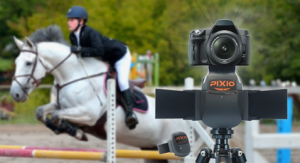 Our French friends at Move 'N See have developed a high-tech solution.  The personal camera man or the PIXIO is the worlds firs indoor and outdoor electronic auto follow robot camera man. It is like a robot version of the Paparazzi that follows you around, except for the fact that you have control of when to turn it on or off.  How does it work?  Well simply in layman terms, this fast speed, three hundred and sixty degree rotating camera base helps to track and record a person wearing a watch tracker device.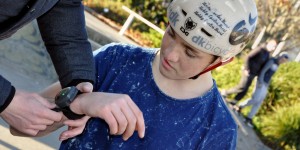 The PIXIO is simple to set up.  The instructions are:
Screw your video recording device on to PIXIO
Switch on the camera, the PIXIO and watch
Now you are ready to record
So easy that even my grandmother would set it up for our family picnic.  The PIXIO tracks the waterproof watch at 90th of a second up to 328 feet (100 meters) in distance.  It works with all smartphones, DLSRs, Action Cams, etc.  With multiple watch trackers, you can track up to 16 people.  The watch works on a rechargeable Lithium-Ion battery.  It has 4 hour battery life and can be charged up via a wireless charger.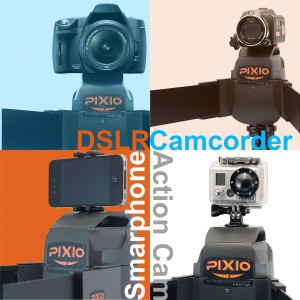 Features
Indoor and outdoor use
Weight: WATCH 70g (2,5 oz), PIXIO 800g (28 oz)
Pan 360° endless
Automatic Zoom
Works indoors and outdoors
Watch Battery: Rechargeable Lithium-Ion battery with 4 hour battery life
Wireless Watch charger, standard USB charger for the PIXIO (both provided)
REMOTE CONTROL APP: Available for Android and IOS devices
Can use different PIXIOs and track up to 16 people
Status: Available for preorder
For more information or to acquire: PIXIO is the world first auto-follow camera