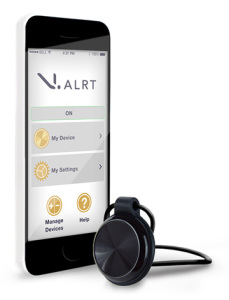 Wearable technology is one of the hottest trends today. However Wearable technology is more than just  virtual-reality headsets, smart watches and fitness devices.  Wearable technology also provides a mechanism to enhance our lives.
With the increased in aging population simple, cost effective great technology for seniors has become critical.The V.ALRT device is a high tech smart wearable safety device made for everyone but is aged friendly.
The V.ALRT wearable Personal Emergency Response technology simply works by pairing up with your smartphone via Bluetooth. The V.ALRT device can be worn as a necklace, key chain or wristwatch. However it is small and light enough to be slipped into your pocket or purse.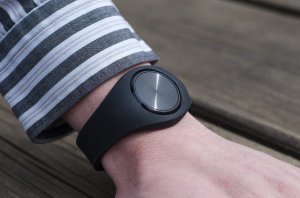 V.ALRT is meant to seamlessly blend with your lifestyle. The V.ALRT device must be within (75′ indoor or up to 300′ outdoor) range of your smart phone to operate.V.ALRT works on a CR 2032 watch battery. Unlike other electronic devices, the battery lasts for a year with no charging required
Waterproof, the V.ALRT can be worn in the shower or bath. Shock and Vibration proof so that it stands up to the rigors and occasional knocks and bangs. If the wearer presses the button, V.ALRT will send a call and text message via your smart (Android or IOS) device to up to three pre-programmed contacts. V.ALRT also has a fall detection feature that sends out an alert if an sudden fall occurs.
.At a one time cost of $60, and no monthly fee, V.ALRT is definitely a cost effective solution for seniors.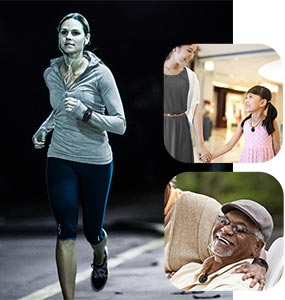 Features
Dimensions: 1.2 x 1.2 x 0.4 inches
Weight: 0.3 ounces
Waterproof, shockproof and vibration proof
Range: 70 feet indoor, 300 feet outdoor
Connectivity: Bluetooth® SMART (Bluetooth 4.0 LE) technology
App: Android and IOS
Battery: CR 2032 watch battery
Battery life: Up to one year depending on use
Alerts: call and texts
Automatic fall detection
Phone compatibility: Phone 4S/5/5C/5S (IOS 7 or newer) and Samsung Galaxy S3/S4/S5, HTC One, Moto X (any smartphone using Android 4.3 or newer with Bluetooth 4.0)
GPS Location: The location from your smart phone can be sent to your contacts
For more information or to acquire: V.ALRT High Tech Smart Wearable Safety device
About VSN Mobil
With its launch in 2013, VSN Mobil is poised to deliver a range of innovative devices that meet our simple goal. VSN Mobil – Products Built for Your Life.