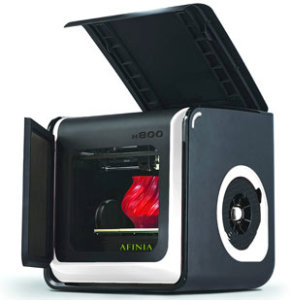 The evolution of 3D printing technology and decline in price has made it become one of the must have tools in every Gadget-Engineer's home or office.
However the challenge we see with 3D printers is that either they are way too costly, or the inexpensive ones are not good enough. Our friends at Afinia have heard our calls and have released the Next Generation in 3D Printers.   The Afinia H800 a very quiet fully enclosed 3D printer.
Unlike other 3D printers in which you need a PHD in Electrical engineering to fully put the pieces together, the H800 3D printer ships fully assembled, and comes equipped with easy-to-install software.  The 3D printer software shipped with the H800 works both with both Windows or Mac operating systems.
The H800 comes with a spacious build volume of 10″ W x 8″ D x 8″ H.  This ensures you will be able to create, customize and adjust the shape of relatively any reasonable and relatively large object you wish to create. The H800 has an active heartbeat mood lighting provides visual feedback of print status.
The H800 provides the end user with ultra fine print resolution 0.1mm (100 micron), 0.15 mm, 0.2mm, 0.25mm, 0.3mm, 0.4mm. Afinia helps the end user save on printing costs by leveraging inexpensive, high-quality PLA and Premium ABS filament. The filaments are available in a variety of colors including natural, black, red, blue, yellow and green and can be changed easily with the H800 one button filament color changing mechanism.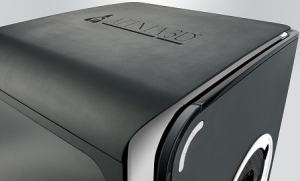 Specifications
Dimensions 19.1″ W x 20.5″ D x 19.5″ H
Weight: 55 lbs (20 kg)
Power: 110-220VAC, 50-60Hz, 220W
Connectivity: USB
Windows OS: XP, Vista, 7, 8 32 / 64 bit
Mac OS: 10.7
Filament: Inexpensive, high-quality PLA and Premium ABS filament
Status: Shipping May 2015
For more information or to acquire: Afinia H800 3D printer