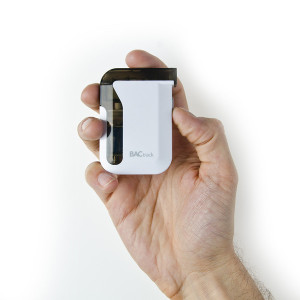 Writing about great devices such as the BACtrack Mobile Smartphone breathalyzer is very simple. I lost a friend of mine who was killed by a car driven by a drunk driver. I am looking at ways that technology can help improve and save lives.
Designed by California based BACtrack. This small in the latest line of breathalyzer is tiny enough (at the size of a box of Tic Tacs) to fit into your purse or pocket.  However don't let the size of the device fool you, because this Gadget is powerful enough to save your life.
To use BACtrack Mobile Smartphone breathalyzer:
Download the free BACtrack on to your Apple or IOS phone.
Connect the BACtrack Mobile  via Bluetooth connectivity to your smart phone.
When you are ready to use it, blow into the BACtrack Mobile for 5 seconds.
The BACtrack app will display your Blood Alcohol Content results on your smart phone.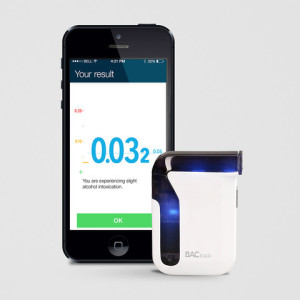 Although the BACtrack Mobile Smartphone breathalyzer meets all standards of an FDA 501(k) approved alcohol screening device, it should be noted that the results from the BACKtrack App are not legally binding in any court of law, therefore the BACtrack Mobile should be used just as a simple guide on your BAC level.
The BACtrack App for IOS includes an integration with the Apple Health app. This allows users (if they want to) to sync data from the BACtrack app directly to the Health app.  The app saves and tracks BAC results over time, including optional photos, notes and drink logs.  I am not sure what would be more interesting to see the day after you go out, the BAC results or the photos.
The BACtrack Mobile kit also ships with 3 mouthpieces so that your friends can also check their BAC levels.
Next time, if you go out for DRINKS,  make sure you pause first and then THINK BACtrack Mobile Breathalyzer.  Remember about the safety of others.
Features
Dimensions: 1.8 x 0.6 x 2.8 inches
Weight: 1.7 oz (47g)
App Store: BACtrack App available on both App Store or Google Play
Mouthpieces: 3 included
Battery: 

Mini-USB Rechargeable Lithium Ion

(included)
Sensor Technology: Xtend® Electro-chemical fuel cell
Warm-up Time: About 10 seconds
Blowing Time: 5 seconds
BAC Range: 0.000-0.400% BAC
Warranty: 1 Year
Compatible Devices:

iPhone 4S, 5, 5C, 5S, 6, 6 Plus;
iPad 3, 4, iPad Air, iPad Mini 1 and 2;
iPod Touch 5;
Samsung Galaxy S3, S4, S5,
Android 4.3 (and above) smart devices with Bluetooth Smart
For more information or to acquire: BACtrack Mobile Smartphone Breathalyzer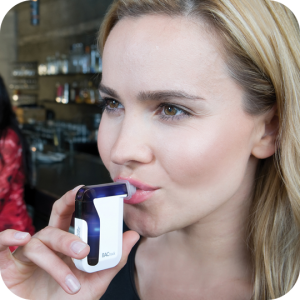 About BACtrack
Founded in 2001, BACtrack
is the global leader in breathalyzers, offering a full range of innovative breath alcohol testers for both personal and professional use.