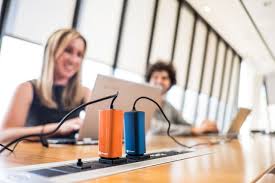 Watching Lady Gaga's Oscar Performance last night I realize that both the entertainment world and the world of Gadgets are changing.  The days past where custom made over the top large has been replaced with simple, colorful, sleek.
One of my pet peeves with Gadgets is that sometimes quality or substance is replaced by size.  Take for example the chargers on our laptops. Despite the size of computational devices shrinking, some how the aforementioned laptop chargers seems to have remained the same (or increased in size).  The difficulty of these chargers aka bricks is that they take too much size in our work and travel bags
Our friends at FINsix seem to also have the same concern and have developed the worlds smallest Laptop charger. The Dart is 4x smaller than your average charger. FINsix has not forgotten quality with this tiny gem.
Dart is built to work with most major laptops.  Given that different power connectors are used by the different laptop manufacturers,the designers of the Dart took the guess out by bundling 9 DC connector tips with the Dart. And by chance should none of these nine fit your laptop, simply contact the FINsix team and they will send you a tip that works with your laptop.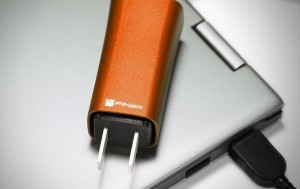 Dart is also a perfect travel companion. Small and at a paltry 60 grams (0.13 pounds) it is the perfect travel companion. Given that the Dart supports 100-240V, it means Dart will work where ever you are in the world. You may need a country plug adapter in order to plug into local outlets
Knowing how important your Laptop and its contents are, Dart has over-voltage protection, short circuit protection, over-temperature protection, and is output current limited to ensure the safety of its users.
Dart can also charge your laptop and USB device simultaneously with its 65W laptop + 2.1A USB ports.
Small,  sexy, lightweight, safe, works with your laptop .. what else can you ask for?
Features
Dimensions: 2.5 cubic inches in volume
Weight: 60 grams (0.13 pounds)
Power: 100-240V
Ports: 65W laptop + 2.1A USB port
Colors: Blue, Magenta, Silver, Orange, Gun metal
Status: Pre-order, available in May 2015
Laptop Compatibility: Acer, Asus, Compaq, Dell, Gateway, Fujitsu, HP, IBM/Lenovo, MSI, Panasonic, Samsung, Sony, Toshiba, and NEC
For more information or to acquire: Dart – The World's smallest Laptop Charger
About FINsix 
FINsix was founded by a team of MIT graduate students with the goal of using our technology to build the smallest, lightest, and highest-performing power electronics.