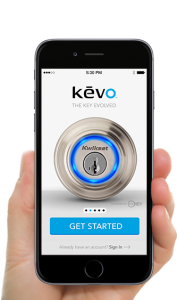 With the Kwikset smart lock  Kevo you will never have to worry about being left out in the cold.
As a child I had the unfortunate experience of losing my house key numerous times and having to wait outside for one of my parent's to arrive home from work. Thank goodness that technology has evolved. The Kwikset Kevo is a high tech Bluetooth enabled lock that allows you to set up encrypted electronic keys or eKeys on your Smart Phone to lock and unlock your door.
Given that we never go anywhere without our Smart Phones, the integration of the eKey into the phone is a fantastic concept that eliminates the issue of where your key is and (in my case) losing it.
You can set up temporary eKeys for guests or even schedule access times (planned future enhancement) which is very convenient to control access to your house. A great concept for maid service or even house sitters when you are on vacation.
There are different types of eKeys:
Owner eKey & Admin eKey – full access to the lock, history, notifications, send, edit, delete eKeys
Anytime eKey – lock or unlock the lock
In the case of a child or yourself if by chance your phone battery dies, you can always use the Kevo fob or a standard key to unlock your door.
The Kevo Plus (available this spring), will upgrade the functionality to the Kevo with remote Locking and Unlocking functionality.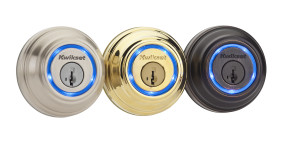 With the Kwikset Kevo I will never again have to worry about being left outside in the cold.
Features
Available in three finishes: Satin Nickel, Polished Brass, Venetian Bronze
Kevo Mobile App: Compatible with Smartphones that support Bluetooth Smart Ready/Bluetooth 4.0

Android: (Beta) Available on Google Play for select Android 5.0, Lollipop devices
Apple: iPhone 4s, 5, 5C, 5S, 6 & 6 plus, 5th generation iPod touch, 3rd generation+ iPad and iPad mini
Batteries: 4 AA batteries (included)
Battery life: ~ 1 year
For more information or to acquire: Kwikset Kevo Plus
About Kwikset
Kwikset, the leader in residential door security, manufactures and markets a complete line of door locks and door hardware. Designed for residential and light commercial applications,