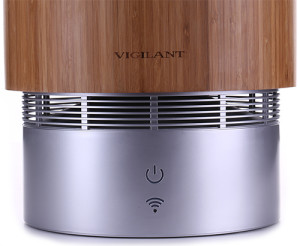 It is sad that things as simple clean air and water are now a rarity. Reading an article recently I was shocked to see that in certain countries air quality is so bad that it is reducing the life expectancy of the population.
Our friends at Vigilant are well aware of the need to have technology help improve our lives. The Vigilant Leaf Indoor Air Quality System is designed to measure and filter the air in our homes. Leveraging Wifi to connect to your smart phone and tablets, the Leaf can be programmed with the air quality of your choice.  The app is available for download on both IOS and Android devices.
The sensors in the Leaf measure PM 2.5 particles in the air. While the filtration system comprised of a Swiss nylon precision woven and high grade activated carbon, HEPA filters help to remove contaminants within your home.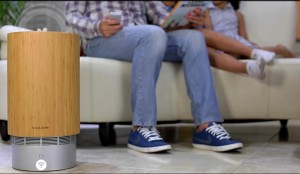 The Leaf also comes with other green features including an auto ON and OFF energy sensor. The app provides you with the ability to compare the air inside with the air quality outside and in other cities.
Improve your quality of life with the Leaf Indoor Air Quality System by Vigilant
Features
Dimension: 500mm(L)*268mm(D)
Weight: 6kg
Removal PM 2.5(%): 99.97%
Wireless: Wifi b/g/n 2.4G
App : IOS 7.0 or above; Android 2.3 or above
Filtration System: Swiss nylon precision woven
Filters: high grade activated carbon, HEPA
Social media: App interface with Facebook, Twitter
Auto On / Off energy sensor
For more information or to acquire: Vigilant Leaf Indoor Air Quality System (AP500)