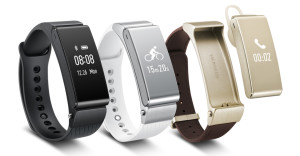 Wanting to go beyond the standards of current day design standards Huawei has unveiled a blend of the classical and contemporary in wearable technology. The Talkband B2 is a life health tracker and Bluetooth headset integrated into a wearable wrist band.
The Talkband B2 has a versatile contemporary look making it ideal for both formal and less formal occasions. The TalkBand B2 is is targeted towards the astute consumer that is looking for technology that looks and feels luxurious. Currently, it's offered in three models (€169) black, (€169) silver and (€199) gold. The ultra-thin Talkband B2 provides the wearer with a timeless design. The gold version provides a slight sheen to it, adding a greater sense of opacity and richness and the well proportioned leather strap are nicely complimented by the elegant design.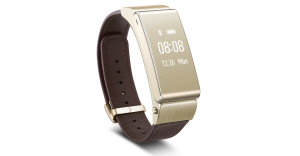 The 0.73-inch display touchscreen on the Talkband B2 is controlled with a touch-and-swipe user interface UI. The headset is 12.5 G and can be easily detached from the wrist strap. It is imbedded with Bluetooth 3.0 Connectivity and a dual-mic reduction Calling Quality to make sure that you are provided with a crystal clear quality for your next business or personal call.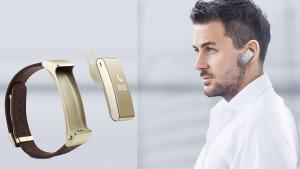 The fitness aspect of the Talkband B2 has automatic activity tracking, sleep monitoring, and measurements of the quality and length of your sleep patterns. Although this wearable technology is high-end in its design and look, the Talkband B2 has an IP57 IP 57 rated for water and dust resistance.
The TalkBand B2, which will launch in April.
Features
Dimensions: 235.10mm x 22.0mm x 11.88mm
Weight: Leather strap version:32.2g (headset: 12.5g; strap with tray: 19.7g)
Material: Aluminum Alloy Metal
Connectivity: Bluetooth 3.0
Display: 0.73-inch, 128×88
Battery:

Rechargeable 95mAh
1.5 hour charging time

Battery Life:

6 days (Depend on wireless call usage time),
Stand-buy ~ 14 days (BT connection off)

Interface: Standard Micro USB charging
OS compatibility: Android 4.0+, IOS7.0+
Colors: Black, Silver, Gold
For more information or to acquire: Huawei Hybrid Smart Band Talkband B2