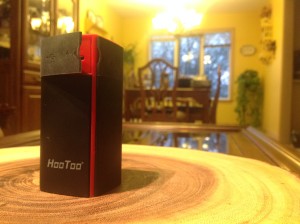 HooToo has indisputably defined "Network without Borders" with the TripMate HT-TM05 SITH. This state-of-the-art compact Swiss Army Network Router / NAS / Power Bank is perfect for setting up a wireless network on-the-go to share files
This super-portable Wi-Fi solution in a small pocket sized red and black box allows you to plug in your USB storage device and share your files with a smart phone, tablet or computer any location. Connecting is as easy as plug and play. Just turn on the HT-TM05, plug in your USB and connect to the TRIPMATE Wi-Fi signal.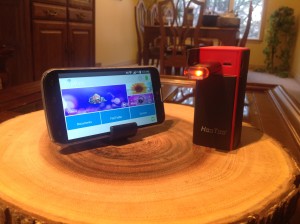 Free downloadable apps are available for iOS and Android Tablet and Smart phones. The HooToo TripMate HT-TM05 supports formatted (NTFS/ FAT16/ FAT32) USB storage devices up to 4TB max. With the assistance of a USB hub you can connect to up to 4 USB storage devices. With respect to performance the HT-TM05 provided very decent performance over 1 MB/s of read and write on to a class 10 32 GB Micro SD Card.
The portable router performs many more functions. By definition, Hotel Wi-Fi is very slow in comparison to wired access. With the HT-TM05 you can merge the flexibility of wireless with some of the speed of the wired network. Simply plug the HooToo TripMate SITH to your DSL or cable modem. Your computer, tablet, smart phone to connect to the internet is ready to connect.
HooToo provides an elegant solution with regards to the common problem of power. The HT-TM05's powerful 10400mAh / 3.7V battery charger (5V/1.5A) is a perfect top up solution for smartphones.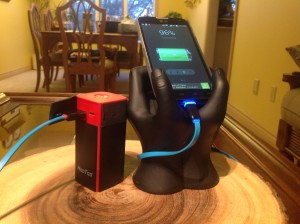 Unmistakable easy to use, power in the palm of your hand. Make sure you add the HooToo TripMate SITH to your travel bag.
Features
Dimensions: 1.6 x 1.6 x 3.7 inches
Weight: 8.8 ounces
Battery capacity: 10400mAh / 3.7V
Wireless Connectivity: 802.11b/g/n
Wireless Encryption WPA/WPA2
Disk Support: Formatted (NTFS/FAT16/FAT32) USB storage HDD (4TB max)
Ports: USB, micro USB, RJ45 Ethernet
Input: 5V/1.6A (Micro USB)
Output: 5V/2A (Max)
HooToo App: Free IOS & Android App
For more information or to acquire: HooToo TripMate HT-TM05 SITH