We all know the proverb, April showers bring May Bluetooth Umbrellas  or something close to that.  Gadget readers with spring and the rainy weather coming soon, I am reminded about my propensity to  leave my umbrella in stores, coffee shops, friend's houses or where ever I may have gone to.
That is why I was very happy to read about the latest Kickstarter project. The Alert Bluetooth Umbrella is the perfect Gadget for me. This high tech protective canopy by Davek was designed to alert its owners whenever it is left behind.
Compatible with both Apple and Android phones. The user downloads the free App from the Apple or Google play store and pairs the phone with the tiny Bluetooth-based "proximity chip" that is built into the handle of the umbrella. If by chance you stray further than 30 feet, you will get a Loss Alert notifying you that you have left your umbrella behind. In addition to the lost notification, the app also has a weather module that will let you know the forecast of the day and week.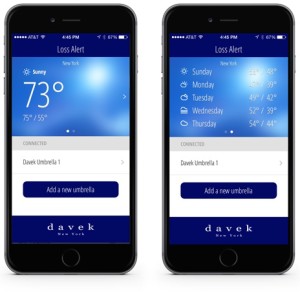 The umbrella is durable, lightweight and wind-resistant. Its frame is made from a combination of steel, aircraft-grade aluminum and fiberglass which makes it strong yet flexible for wind resistance. The exterior material is a water resistant, durable, quick-drying mocroweave fabric.
As indicated, the Davek umbrella is currently seeking backers on Kickstarter. If funding is achieved it is expected to ship in September of 2015.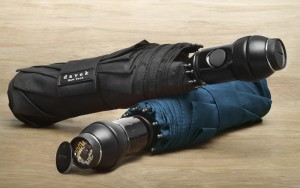 Features
Dimensions: 43 " arc-diameter, 12″ length when closed
Distance: 30 ft
Bluetooth 4.0:
Battery: Replaceable CR 2032 coin cell battery
Battery Life: 1 – 2 years
Compatible Devices:

Apple: iPhone4s. 5C. 5S. 6, 6 Plus
Android: Samsung Galaxy S3, S4, S5, Note 4, Note Edge
App: Free download from Apple or Google Play store
Color: Classic Black, Royal Blue
Material:

Frame: Combination of steel, aircraft-grade aluminum and fiberglass
Exterior: Water repellent mocroweave fabric
Handle: Zinc Alloy
For more information or to acquire: Davek Alert Bluetooth Umbrella