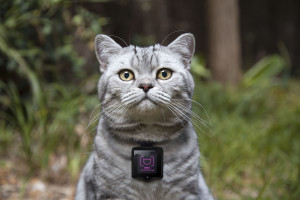 What can be more fun than wearable technology. Well the simple answer is wearable technology for your pet.
Our friends at Whiskas Australia have answered the call of the tame and have created the CatsTaCAM. This wearable pet-technology is currently in development stages and is being tested by our Australian friends. Currently the CatsTaCAM have been given out to the pets of celebrity Australians, but don't fret because the photos from these famous felines have been posted on the Whiskas Australian Facebook page.

The lightweight Wi-Fi enabled camera attaches to the collar of your cat (or Gizmo my cat) and automatically snaps pictures and posts them to Instagram with the tag #catsacam so that their four legged friends can join in our their daily frivolity.
The CatsTaCAM weighs approximately 44 grams and can take up to six photos per minute from the POV of the cat. Currently no information as to when or if this device will become available for ordinary pets like my Gizmo.
Features
Weight: 44 grams
Speed: 6 photos per minute
Capture Technology: motion-detection
Status: Concept for marketing campaign
For more information or to acquire: Whiskas CatsTaCAM