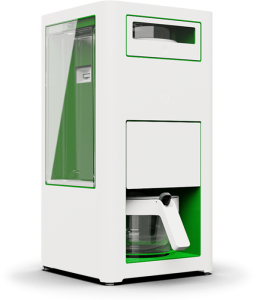 Monday seems a little less dark and dreary with a great cup of Gizmo coffee. Bonaverde has created the worlds first coffee machine that will prepare and serve you a sensational cup of java.
The "Dalia" was developed by the support of the online Kickstarter campaign. It was an attempt to develop a machine that disrupted the coffee cycle by providing consumers with the ability to buy direct from the farmer. It took a new approach by eliminating the middle men.
"Dalia"  has been designed to make a perfect cup of coffee. With its Swipe & Brew technology, the smart reader inside the machine takes your beans through the roasting process, combining the time and temperature to enhance the particular qualities of each blend. With the roasting process, the coffee beans are transformed, becoming lighter, developing aromatic qualities. The next stage of this java metamorphosis is the grinding process, in which "Dalia"  has altered the coffee beans resistance to the flow of water, influencing the extraction speed . Finally Bonaverde completes the ultimate Barista-like experience by brewing your coffee using a Rainshower Brewing Method.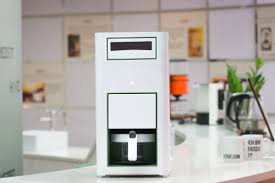 The whole process from start to finish takes approximately twelve to fourteen minutes. LED status indicators on "Dalia" notify you if the machine is in stand-by, working or paused (due to an issue). "Dalia" is expected to be shipped in Summer of 2015.
It would be interesting to see and taste the difference of a cup of coffee served by "Dalia"
.
Features
Dimensions: Width: 25 cm x Height: 47.5 cm x Depth: 25 cm
Removable Water Tank: 1.2L
Smoke Filter
Adjustable Grinder
Rainshower Brewing Method
Heat-proof glass
Personal Barista with Swipe & Brew
Shipment date: Summer 2015
For more information or to acquire: Bonaverde Dalia Roast-grind-brew coffee machine