Despite laptops getting smaller, faster and having much more memory, one of my pet peeves is that they still lack enough USB ports.
Most laptops whether it be Mac, Windows or other OS usually come with 3 or less USB ports. Unfortunately this means that your ports are full once you have plugged in your Wireless mouse, external hard drive and other peripherals.
The Infinite USB are stylish, sophisticated and slick thin USB cables (micro, lightning, female). Infinite USB is a Kickstarter funded project that helps to address this shortcoming. By plugging into one of the USB ports on your computing device, Infinite USB provides a chain of stacked USB ports providing you an unlimited supply of open slots.
Although you could physically plug in an unlimited number of USB cables, Infinite USB is limited to 127 devices per controller(including the root hub).
The Infinite USB is available in 5 stylish colors (Blue, Orange, Green, Grey, Pink). The magnetic design ensures that these USB cables will not tangle and they can be easily stored when you are finished with them.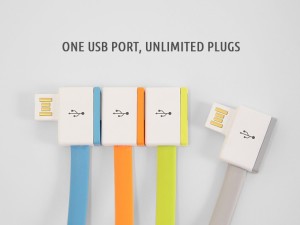 Features
Requirement: One USB port
Dimensions:

1.6cm(W) x 2.8cm(D)
20cm long without USB heads.
25.5cm in total(with heads) for Slim

Colors: Blue, Orange, Green, Grey, Pink
Status: Being funded by Kickstarter
Estimated Delivery: July 2015
For more information or to acquire: Infinite USB
About VojoTech
Founded by a group of creative cross-discipline professionals, Vojo has its unique aesthetic taste of modern , fun and metropolitan lifestyle. All Vojo products are blessed with these signature scents. Vojo believes that its extraordinary design is an answer to unsatisfied consumer needs and undiscovered use of gadgets. Vojo challenges the traditional concept of digital gadget.