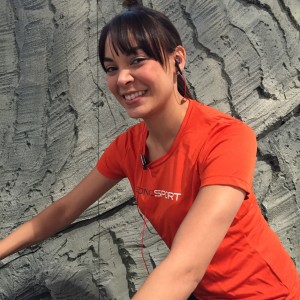 A great pair of Active Fit In-ear Headphone can help to motivate your workout.
With the great weather we had the last weekend I noticed many people were outside exercising. However watching people run, it was obvious to me that not everyone was correctly prepared to hit the pavement.
Whether exercising indoors or outside, we all see most runners, bikers and triathlons plugged into their music.  Most of them do not realize that selection of great acoustic Gizmos will help them achieve exercising excellence. Music is a motivator, a friendly but  positive push when we are out there running, jogging, biking and even walking. According to a study published in the Journal of Sport & Exercise Psychology (2008) it indicated:
It is understandable why having a great pair of headphones is very important when you work out. That is why, when I exercise, I like to utilize these great Active Fit In-ear ATH-CKP500RD Headphones made by Audio Technica. Lightweight but durable, these wired headphones provide me with a very comfortable fit. Included with each are interchangeable ear tips available in XS/S/M/L sizes that will give you the personalized fit. Within your ear, the ear-tips are positioned comfortably and gently by the ergonomic C-shaped ear-tips . The design excellence extends to the asymmetrical cable design that ensures your cables will not get tangled and will flow freely without getting into your way.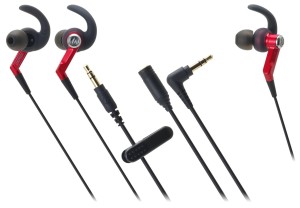 From a sound quality standpoint, Audio Technica ensured the ATH-CKP500RD provides crystal clear, yet powerful audio to let you clearly hear your music why ensuring you can also hear your surroundings. The ATH-CKP500RD are IPX5 waterproof, which means that they should withstand any running in the rain. It also means that these headphones can be washed out after your sweat dripping run. Available in four (Black, Red, White, Blue) tantalizing colors.
So Gizmo Readers make sure that when you are exercising next time that you make sure you get the right Audio Accessories to Enhance your workout.
Weight: 8 g
Fit: In-Ear
Driver Diameter: 8.8 mm
Frequency Response: 20 – 23,000 Hz
Maximum Input Power: 40 mW
Sensitivity: 100 dB/mW
Impedance: 16 ohms
Cable: 0.6 m (2′), U-type
Connector: 3.5 mm (1/8″) mini-stereo
Accessories Included:

C-tips (S/M/L)
ear tips (XS/S/M/L)
ridged ear tips (S/M/L)
0.6 m (2′) extension cord
cord clip
For more information or to acquire: Audio Technica ATH-CKP500RD Active Fit In-ear Headphone
About Audio-Technica
Audio-Technica is a worldwide group of companies devoted to the design, manufacture, marketing and distribution of problem-solving audio equipment.