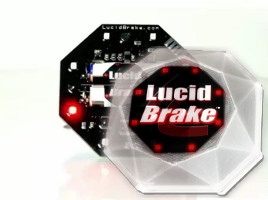 Driving in big cities I have seen how dangerous the roads are for bicycles. If you are a cyclist, or know someone who is, here is a high tech bicycle Gizmo that might just save your live.
The  LucidBrake Smart Wireless Motion-Sensing light By LucidLights, LLC. is an innovative ultra-bright 8 LED lights can be attached to your helmet, backpack and bicycle and respond to your movement. The LEDs blink as you move and similar to a car brake light boldly alert solid when you stop.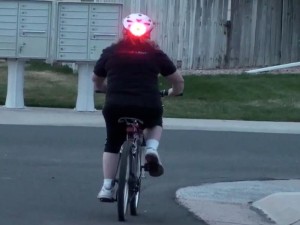 The flat back on the  LucidBrake make it easy to mount on multiple surfaces. No wiring or installation is required. The "Dual Lock" fasteners from 3M ensure the LEDs are tightly fastened onto the surface.
The  LucidBrake lights are extremely effective to enhance your visibility to vehicles and pedestrians. In fact they can be seen up to a ½ mile away at night and ¼ mile during the day. The LucidBrake LED lights have four beacon modes: 2 blinking modes, steady glow (tail light), or off (for racers) normally while in motion. This device is also waterproof.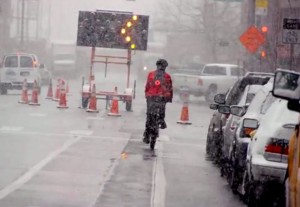 In addition to bicycles the  LucidBrake Smart Wireless Motion-Sensing Press-On lights make a great safety enhancement on boats, jet skis, bikes, skateboards, wheelchairs, scooters, helmets, backpacks, clothing and signs.
Easy to use and easy to set up. Enhanced visibility. One thing for sure, LucidBrake is a high tech Gadget that will make everyone safer when you ride.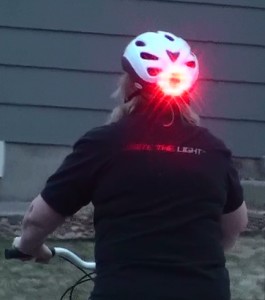 Features
Weight: Under 2 ounces (includes battery)
Waterproof : operates under water for biking in rain or snow, for boating, or other aquatic uses.
Mounts on virtually any surface
Battery: two AAA batteries
Battery Life: over 1 year
Green Energy: Auto detect and shuts off when not in use to save battery life
Status: Seeking funding on Kickstarter
Shipping ETA:  early June 2015.
For more information or to acquire: LucidBrake Smart Wireless Motion-Sensing Press-On Bicycle Brake Light
About LucidLights, LLC
Founded in 2007, LucidLights, LLC designs innovative smart LED lighting technology for safer living. LucidLights ™ are hand-held, oscillating light devices that use persistence of vision to paint bright images (text or graphic) in thin air, stopping people in their tracks with their novel brilliance. For more information, see www.lucidbrake.com