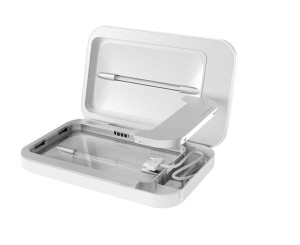 Spring cleaning of your Gadgets is important.
Our smartphones have become a high tech appendage. We use them daily and they are everywhere we go. According to a study done in 2014 by KFOX 14 in El Paso Texas,
"Generation Y is the heaviest population to use their mobile phone in the bathroom as the survey shows 91 percent use their use their phone in there.

Generation X is not far behind with 80 percent of cellphone users taking their phones in the bathroom. The survey also shows that 65 percent of baby boomers use their phone in the bathroom."
Unfortunately, this means that our Smart Phones are a magnet for harmful germs and bacteria. So Gizmo Readers, this spring season. While you remove the dust and dirt off your shelves and windows remember to clean your Gadgets. What you may ask can you use to clean your Gadgets. The answer is another Gadget.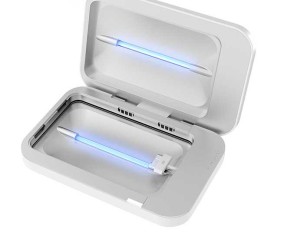 The PhoneSoap Charger is a mulch-faceted device that charges, amplifies and cleans your phone. Available with a 5V USB port to connect to your phone. Simply plug it in, close the case and let the PhoneSoap Charger take over. Leveraging 2 X 254nm UV-C Lamps the PhoneSoap Charger kills all the bacteria on your phone without the use of heat, chemicals or anything else that might damage your device.A blue indicator will let you know when the sanitizing is complete.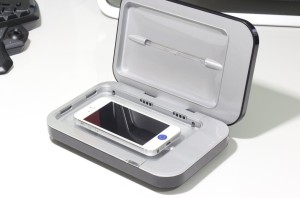 The PhoneSoap Charger works with most major smart phones including the iPhone 5, iPhone 6, Blackberry and many Android phones.  For more information on whether it will work with your smart phone check out the device list online.
Don't let your high tech devices get you sick.  Remember to include your Gadgets on your spring cleaning list.
Features
Dimensions (Inner): 6 L x 3.74 W x .78 H
Dimensions (Outer): 7.6 L X 5 W X 1.76 H
Charger: 5V USB port (ships with USB to Micro USB cord)
Lights: 2 X 254nm UV-C Lamps
Safely kill 99.99% of bacteria
Disinfect in 5 minutes
For more information or to acquire: PhoneSoap Charger