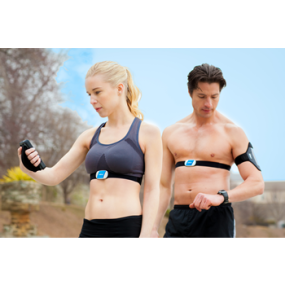 The Wahoo TICKR X Workout Tracker with Memory is a Workout Activity Monitor that is compatible with iPhone and Android phones. I had the opportunity take this device for a test drive, walk, run and through different workouts for a month.
User Friendliness:
Overall the Wahoo was easy to use straight out of the box. Once the App was installed on my iPhone, I was up and ready to go. As with other fitness apps, you will need to customize the settings with you age, weight, height and gender. (It doesn't pay to fabricate with any of these).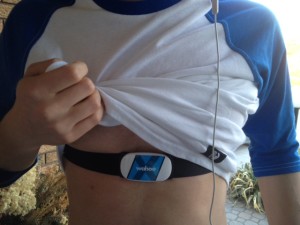 Using the Tracker is very easy – just clip the elasticized band around your chest, and you're ready to go. Its best that The Tracker placed on skin, as has a difficult time with the heart rate monitor if it is over clothing. The Tracker can be controlled from the Wahoo app, or on the Tracker itself. The settings of the Tracker can be customized to do the following when there is a Double Tap:
Start/Pause/Resume Workout
 Indicate a Lap
 Turn Off/On Music
The Tracker records many statistics during a workout, with the bonus being that your mobile device does not have to have an internet connection for the information to be saved and recorded by the app. If you're a workout junkie, you can chart many aspects from your workout including:
The actual route (mapped out)
Active Time
Paused Time
 Lap time/distance/speed (per km or mile)
Average heart rate
Average pace
Calories Burned
Nikefuel Rate
Rep Counting through the Wahoo Fitness 7 Minute Workout App
Burn and Burst Numbers (which can be customized)
Cadence Analysis (Running smoothness)
Audio Announcements (Average Heart Rate and Distance Traveled)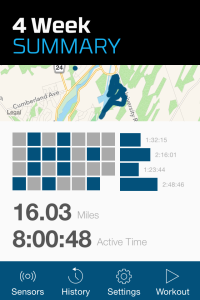 Prior to starting a workout, the user is asked to pick out a Work Add Mediaout Profile. There are many to choose including the "typical": Running, Cycling, Treadmill and Walking. There are many other profiles to choose from including many varieties of Running (Track, Trail), as well as other sports including Hiking, Mountaineering, Speed Skating, Swimming, Wind Surfing, Kite Boarding, Snowboarding, and more. Unfortunately, there was no "Boot Camp" or Yoga options, although there was a Golf option! Every workout is tracked, and statistics are compiled on a weekly and monthly basis. This is a great way to give you visible proof of your workout habits.
The Wahoo TICKR itself does not have any audio features, however the app has plenty of features, including an audio option that lets you know the distance and average heart rate after every mile/km.
Product Features:
Hardware: – There were no hardware issues with our evaluation of the product.
Battery Life: The CR2032 battery life and functioning of the product were excellent
Durability:  The TRACKR  X  is sweat proof (hand washable strap). Although the product description says "waterproof up to 5 ft submerged", and Wahoo plans to add plan to add support for recording laps in the future, we cannot vouch for the water based workout options.
Cost: The version that was tested ( Wahoo TICKR X Workout Tracker with Heart Rate and Memory) retails at $99 USD. There are other versions including TICKR RUN WORKOUT ($80 USD) and TICKR HEART RATE MONITOR ($60 USD).
Bottom Line
I loved  WAHOO TICKR X WORKOUT TRACKER WITH MEMORY . This product was user friendly right out of the box. If you're thinking about getting fit or staying fit, this will help motivate you.
Specs:
Physical Dimensions (L x W x H): 2.75″ x .5″ x 1.5″
Weight: 8.5 grams (without strap)
Sweat proof:
Water Rating: IPX7 (waterproof up to 5 ft)
Strap Length: Adjustable from 24″ to 48″ (stretched)
Wahoo Fitness Apps: Free on Android and IOS stores
For more information or to acquire:: Wahoo TICKR X Workout Tracker with Heart Rate and Memory for iPhone & Android
About Wahoo Fitness
Wahoo Fitness is a fitness products company dedicated to bridging the gap between expensive, accurate exercise sensors and the everyday athlete. We achieve this by displaying workout information on that expensive computer you already carry with you… your smart phone. 
About Leanne

Leanne is a sports fanatic who has participated in many sports including soccer, gymnastics, swimming, track and field, yoga and jujitsu.  Having completed several professional coaching licenses for soccer in the US and Canada and with over 40 years experience , she knows what goes into developing elite athletes.  She is passionate about fitness technology and provides feedback as a guest blogger for New Gizmo Blog.