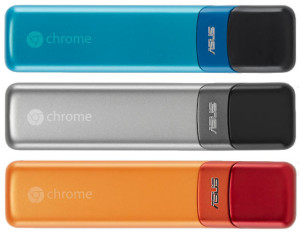 Asus and Google have announced the ultimate in portable computation devices.
The ASUS Chromebit aka Chrome on a stick is the first and world's smallest PC on a computing device the size of a memory stick. Simplicity is the theme when it comes to Chromebit.
Running on a Rockchip® RK3288 quad-core processor, take the Chromebit out of your pocket, plug it into an available HDMI port in your house or hotel and watch it power up. You can connect keyboard and mouse devices via Bluetooth 4.0.
Chromebit comes with dual-band WiFi 802.11ac capabilities, 2 GB of Ram and 16 GB of solid state storage. Chromebit also has a full-size USB 2.0 port if you want to provide additional storage or connect other devices.
Chromebit is the perfect computer for students who are challenged for space in their dorm and the ultimate in travel size companions. Chromebit will be available in mid 2015 for under $100 USD.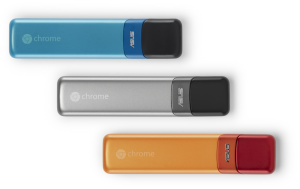 Features
CPU: Rockchip® RK3288 quad-core processor
Colors: Blue, black, orange
Hardware requirements: TV with a HDMI port
Ram: 2 GB RAM
Solid state storage: 16 GB
Connectivity: dual-band WiFi 802.11ac, Bluetooth 4.0
Interfaces: 1x full-size USB 2.0 port
Availability: summer 2015.
Price: less than $100 USD
For more information or to acquire: Asus Chrome on a stick (Chromebit)