Guest post submission written by Rachel Quaill
PAPAGO! dashcams provide the performance of a commercial surveillance system at a fraction of the cost. Avoid insurance fraud or wrongful citations, have solid proof when an accident occurs, or capture that crazy antic on the road. With PAPAGO!'s growing product line you are certain to find the right match for you and your family.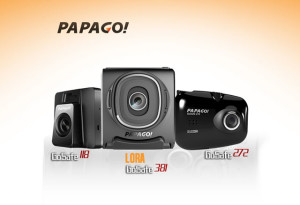 The lens tilt feature on the LORA- GoSafe 318 will give you the added benefit of capturing video from any angle. The GoSafe 272 is a great way to record your traveling experiences and share with family and friends. The GoSafe 118 is a micro-sized dashcam that can be hidden behind your rearview mirror and still capture amazing video.
Our Vision. Your Safety.
PAPAGO! dashcams come with a pre-installed Driver Assistance System that will keep any driver more aware while on the road while promoting safer driving habits.
Features
Stop and Go: After the vehicle is completely stopped for 5 seconds, the Stop and Go technology will be activated
Driver Fatigue Alarm: On long road trips the driver can set an audio alert as a reminder to rest.
Light Reminder: An audio alert will remind you to turn on your headlights when it begins to get dark.
Stop Sign Recognition: PAPAGO! dashcams have a stop sign recognition feature.
FCWS: The Front Collision Warning System will give you an audio alert when driving too close to the car in front.
LDWS: Lane Departure Warning System will give you an audio alert when you switch lanes unexpectedly.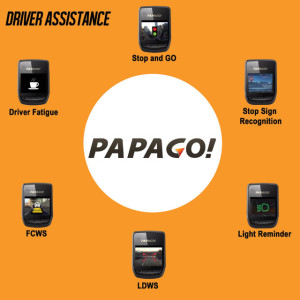 Expand your Dashcams' Features.
PAPAGO! has designed a hard-wire kit to offer a 24/7 surveillance or a motion activated parking surveillance for your vehicle. When the voltage of the car battery is low, the protection technology will become activated and cut off the power to the dashcam automatically to prevent draining the car battery, so you never have to worry.

The GPS Antenna will add another layer to our already feature-rich dashcams. This external device will embed your exact location and speed onto all your video files. The external GPS antenna is compatible with PAPAGO! GoSafe 118, GoSafe 200, GoSafe 260, LORA-GoSafe 381 dashcams.
For more information or to acquire: PAPAGO! Dashcams at BestBuy
About PAPAGO! Inc
Established in Taipei, Taiwan in 2001, PAPAGO! Inc. has now expanded to China, Russia, Australia, Japan, and now America and Canada. Here at PAPAGO! Inc. we are excited to finally bring our innovative designs and concepts to the US and Canada. With over 10 years experience in the GPS software and hardware industry we continue to branch out to other related products that are sure to become market leaders in car safety devices and driving recorders.