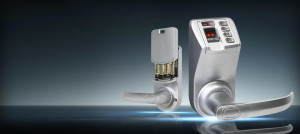 Having experience as a child of losing keys and waiting outside in the rain and snow, I am on the lookout for a great key-less lock so that no other child has to experience the same pain I felt.
Our friends at California based Adel Lock USA have heard and heeded my call with the TRINITY-788 Biometric Fingerprint Door Lock. No longer are house keys required.
Designed for ease of access and ease of installation, this lock provides the user with three methods to access: Fingerprint, PIN Code, and Mechanical Key. The DIY installation can be installed on USA standard 2-1/8″ diameter hole with a thickness of 1-5/32″ to 2-3/8″. Customizable, the handle is reversible to meet your specific requirements.  The outer shell for the lock is solid and would stand up to standard wear and tear and the fowl attempt to gain access.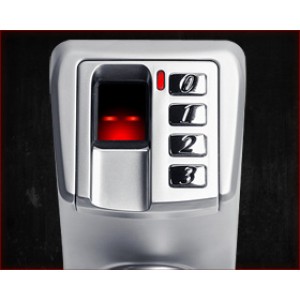 Stand-alone, 4 AA alkaline battery-operated, this lock can be programmed with up to 99 fingerprint memory and three master finger prints. The Trinity 788 scans and reads your fingerprint for easy access and master finger prints can add a new user within seconds.  You can also  program it with a single six digit PIN code.
The procedure to enroll fingerprints is easy.  Place your / the administrator finger on to the scanner. Now press the +button and then press the # button. Press the +button twice (this specifies you want to add user number 2) Press the #button twice. Present user number 2 finger and lift away. Present user number 2 finger again and lift away. Congratulations, you have successfully added user number 2 to the door.
If by chance you forget to replace your batteries, the  TRINITY-788 has an amazing solution to allow you to get access. You can utilize the emergency over-ride key.  Another option is to use a 9V battery for emergency power.  You can now either place an enrolled fingerprint on the scan window or input the spare password to open the door.
Using the TRINITY-788 is simple and fast.  It reads and provides access (or not) in under a second.   It is easy to program (add and delete users) for visitors without having to create keys or worry about people leaving with your keys.  Most important the TRINITY-788 gets rid of those pesky keys and having to worry and wait outside (in the rain and snow) when you forget your keys.
This spring, as part of your Gadget cleaning, replace your locks with the TRINITY-788 Biometric Fingerprint Door Lock by Adel Locks USA.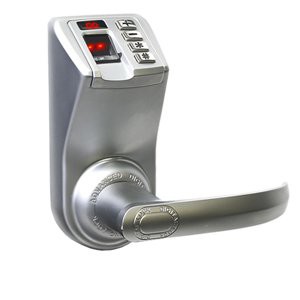 Features
Dimensions: 12 x 8 x 12 inches
Weight: 5.9 pounds
Color: Satin Chrome
Authentication Speed: <1 second
Mechanical keys for emergency use
Interior doors only
Power: 4 AA alkaline batteries (included), DC 4.5-6.0v or 9V Stand-by power
Battery life: Approx 12 Months
FAR (False acceptance rate)     <0.0001%
FRR (False rejection rate)     <1%
For more information or to acquire: TRINITY-788 ADEL Biometric Fingerprint Door Lock
 About Adel Locks USA
California based Adel Lock USA uses biometrics in order to identify and authorize registered fingerprints.