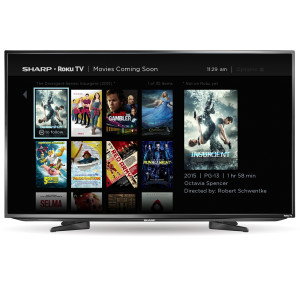 From the creator of intelligent entertainment comes the next evolution of smart televisions.
The Sharp Roku TV™ is the next evolution of television appliances. Running on Roku OS, consumers will now be able to combine the intelligence of the Roku platform with the superior presentation and technology of Sharp.
The Sharp Roku TV™ can be personalized with icons of a consumer's favorite show, channel and other entertainment choices including devices such as game consoles, cable boxes and Blu-ray players, together with favorite streaming channels
With the Sharp Roku TV™ gone are the days of navigating through complicated menus. Roku simplification with Sharps elegance will allow consumers to watch a live television show, stream a movie or listen to a favorite song with a few clicks of the remote.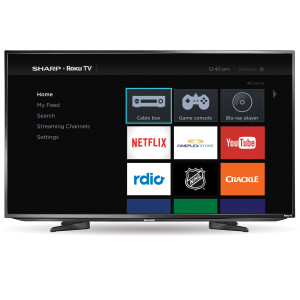 For Canadian users the Sharp Roku TV™ will provide consumers with access to more than 1,400 available streaming channels in Canada. Streaming channels available on the Roku platform feature movies and TV episodes plus live sports, music, news, fitness, and much more.
The Sharp Roku TV™, similar to its cousin (the upgraded Roku 3 and 4) will allow  consumers to leverage mobile apps (available for both IOS and Android devices) and utilize options such as the amazing Roku Voice Search . In addition, consumers can cast Netflix and YouTube, as well as personal video, photos and music, directly from their mobile device to their Roku TV.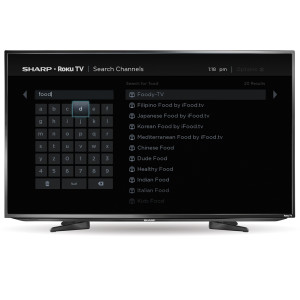 The next generation Sharp Roku TV™ will also allow you to "Follow" popular in-theater movies (aka as this writer refers to, the movie stalker app) and receive notification as to when the movie becomes available.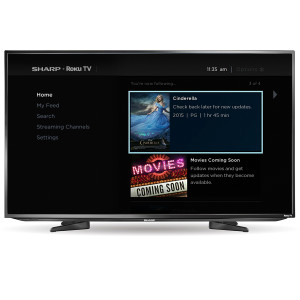 The Sharp Roku TV™ is available in two models, 43″ and 50″. With both models featuring 1080p Full HD resolution and a 60hz native refresh rate. The 43" LED Sharp Roku TV will be available for C$499.99 (MSRP). The 50" LED Sharp Roku TV will be available for C$699.99 (MSRP). Both are available exclusively at Best Buy stores and BestBuy.ca.
Roku has once again upped the challenge to the competition by extending its intelligence into the Sharp Roku TV™. I can't wait to get my hands on one of these Sharp looking televisions.
Features
43" LED Sharp Roku: MSRP C$499.99
50" LED Sharp Roku: MSRP C$699.99
Availability: May 2015
For more information or to acquire: Sharp Roku TV™
About Roku, Inc.
Roku is the creator of a popular streaming platform for delivering entertainment to the TV. Roku streaming players and the Roku Streaming Stick® are made by Roku and sold through major retailers in the U.S., Canada, the U.K. and the Republic of Ireland. Roku licenses a reference design and operating system to TV manufacturers to create co-branded Roku TV models. Under the Roku Powered™ program, Roku licenses its streaming platform to Pay TV providers around the world who want to use the Internet to deliver entertainment services through streaming players. Roku was founded by Anthony Wood, inventor of the DVR. Roku is privately held and headquartered in Saratoga, Calif., U.S.