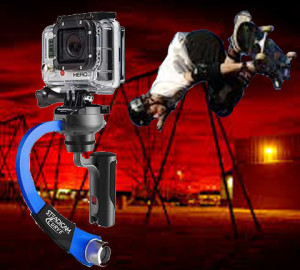 Having taken numerous action and interview videos, I have been the author of far too many fuzzy videos. In fact I am pretty sure that music recording artists Robin Thicke, T.I., and Pharrell Williams were inspired by some of my videos when coming up with the song Blurred Lines.  So it was no surprise that I was very enthusiastic to test drive the Steadicam® Curve with my GoPro® Hero 4 camera.
For all of our outdoor enthusiast readers who have never heard of the Steadicam® Curve. This dynamite of a gadget is a handheld mechanical stabilization device that will help to ensure that even when you are moving, your video is not.
Although it has been out for close to two years now, the Steadicam® Curve is still considered to be a bleeding edge disruptive high tech device designed to improve on your GoPro® videos. What makes it so revolutionary you may ask? With the GoPro® Hero 4  obtaining clear video is challenging because of its small form factor size.  Like a glove specifically designed the Steadicam® Curve is engineered to ensure your GoPro® Hero 4  fits in snug and stable.
The Steadicam® Curve is an ultra light weight appliance, at about ½ lb it is made from a durable aluminum frame. The Steadicam® Curve is compatible with all GoPro® HERO®, GoPro HERO2® and GoPro® HERO3/3+® and GoPro® HERO4® cameras and is available in blue, black, red and silver.

The Steadicam® Curve.is great for getting those perfect shots while skiing, snowboarding, canoeing, white water rafting, or even for a simple walk or run. At about 6⅜" in height it is not small enough to put in your pocket but small and compact enough to put in your bag.
In order to use the with your GoPro®, simply slide your GoPro® with buckle onto the mount slide making sure its facing the in the right direction.  After you have finished, to remove pinch the buckle and slide off the plate Steadicam® Curve  to remove
One thing consumers should know when using this device with the GoPro® Hero 4 is follow the directions precisely to balance the camera and weight kit on the Steadicam® Curve.. This is the most important and yet somewhat tricky component.  Being a typical geek at heart, I tried to set up the Steadicam Curve without looking at the instructions which lead to quite a lot of frustration and wasted time.  Having flailed for a while, I decided to reset from scratch and follow the instructions to the letter which led to (surprisingly) success.  Tiffen's  instruction manual is very detailed in its description of how to set up and balance the device.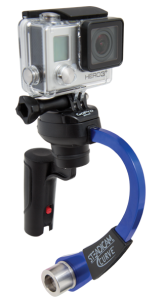 However, if you still have problems setting up your Curve , email the friendly Steadicam® support team at techsupport@tiffen.com and they will help you set things up.
For all you bloggers out there, take note because the Steadicam® Curve.is not just made for sports action videos.  This device is also great for stabilizing your shaky interview videos also.
Bottom line is, I am a fan of the Steadicam® Curve. It makes a world of difference transforming amateur blurred into professional looking videos and  is very affordable at $59.95.
Features
Compatibility: GoPro® Hero® HD, Hero® 2, Hero® 3 with GoPro® LCD in the BacPac® compatible housing
Dimensions: 3 x 5.2 x 6 1/2 inches
Weight: ½ lb
Material: Durable Aluminum Frame
Fine tune adjustment knob for precise balance
Collapsible handle for compact storage and portability or for use as a GoPro® hand grip
Colors: Black, Blue, Red, Silver
For more information or to acquire: Steadicam® Curve for GoPro®
About the Tiffen Company
Tiffen has been a leading manufacturer of photographic filters, lens accessories, software, and camera accessories for the consumer/professional imaging and the motion picture and broadcast television industries for 75 years. Today, the company offers a wide range of products, which include: Tiffen® filters, Steadicam® camera stabilizing systems, etc.