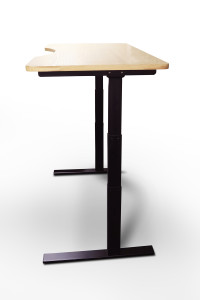 As with many millions of other tech workers, sitting all day long has its negative affects on our health. Personally, I have been challenged with occasional back and leg pains.
Unfortunately my short term challenges may be early signs of possible long term health issues. An article published in the American Journal of Preventative Medicine by Harvard researchers in 2014 on 92,234 women confirmed that the more time the participants spent sitting whether at work, driving, or watching TV, the greater their risk of dying from heart disease, cancer, or strokes.
The conclusion of the study indicated that:
"there was a linear relationship between greater amounts of sedentary time and mortality risk after controlling for multiple potential confounders."
Well the good news is there is a lot we can do to combat. Including exercising more, eating well and getting up occasionally at work to go for a walk. One item I have investigated is replacing my traditional desk with a standing desk to force me to stand up while at work.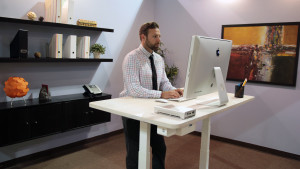 Recently on Kickstarter, there was a launch of the Autonomous Desk. Not your grandmother's desk, this smart furniture senses your arrival and automatically raises to your preferred standing height. A memory pad on the desk remembers all your preferred heights.
The Autonomous Desk is also a hands-free personal assistant. Built with a speech recognition engine and natural language understanding you can talk to the desk and control all your connected devices like Nest, Philips Hue, LIFX, or Lockitron.
It is amazing that a small change such as moving from sitting to standing can have a a large impact on our lives. I will let you know how my life changes (at work to begin with). If you are interested in making a shift in your work-style, you can purchase the Autonomous Desk via the online Kickstarter campaign.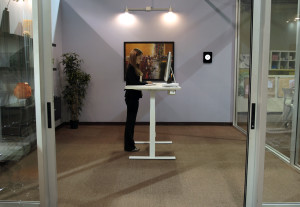 Features
Height: minimum height 24.5 inches, maximum height 47 inches
Frame Colors: White, Black, Grey
Desk Top Colors: Oak, Walnut, Bamboo, Black, White
Supporting Weight: the desk can hold 350 pounds
Features:

A memory pad that remembers all your preferred heights
Wireless Charger
USB charger
HD Speaker
Bag & key hangers
Companion iOS & Android apps
For more information or to acquire: the Autonomous Desk