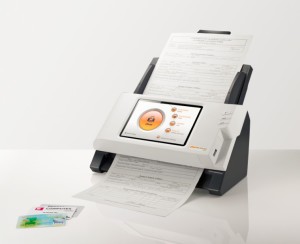 Whether you run a business or not, there are some consumer electronics that will simplify life for you. In order to get rid of the endless stacks of paperwork, bills and documents, I recently purchased a Standalone scanner.
The Plustek eScan A150 is a powerful Standalone Network & WiFi Document Scanner. It includes many very useful features including 25 page-per-minute scan speed, Ethernet and wireless 802.11 b/g/n network connectivity, a TouchScreen display, and an up to 50-page capacity auto document feeder.
Researching scanners I discovered that not all scanners are created equal. Some brands make the action of scanning into a complex task. The eScan A150 has a built-in seven inch LCD touchscreen with a smartphone-like Apollo interface. The intuitive Apollo user interface (UI) makes it easy to scan, edit and distribute your file (to multiple destinations) .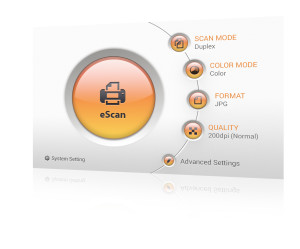 Setup for the eScan is as simple and does not need to be connected to a computer. Once you have unpacked it, turn it on and then plug the Ethernet it into your network. If you prefer the wireless option, then the network configuration is completed with the three steps. The average range between the scanner and network (router, hub, switch) appliance is for WiFi 200ft.
There are many features that I love about the eScan. If you have multiple pages, the eScan allows you to save all the images within a single document. You can also save it as a picture (JPG, TIFF, PNG) or PDF document. The eScan A150 is a duplex scanner, it will scan both sides of the document with one scan.
The eScan A150 has a built-in seven inch LCD touchscreen that enables you to verify and review your scanned document.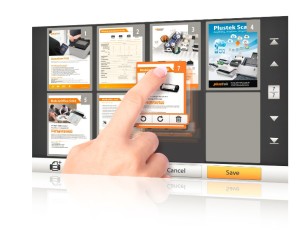 You have the option to edit (ie crop, rotate, redact) the document a page at a time. Plustek also provides you with the scan-to multiple destinations feature for:
USB drive
Network folder
mobile
eMail address
cloud destinations (Dropbox, Google Drive, Evernote, Box, SharePoint or FTP)
Bottom line.  If you are looking for an appliance that is easy to set up and even easier to use, then consider purchasing the Plustek eScan A150.
Features
Dimensions (W x D x H) 318 x 170 x 189 mm (12.53″ x 6.69″ x 7.45″)
Weight 2.8 Kgs (6.17 Lbs)
Mobile App: Available for iOS and Android
Connectivity Technology Ethernet, WiFi
Optical Resolution 600 dpi
Hardware Resolution 600 x 600 dpi
Capacity 50 sheets (70 g/m², 18 Lbs)
Scanning Speed

15 ppm/ 30 ipm (Grayscale mode, 200 dpi, A4 Portrait)
S15 ppm/ 30 ipm (B&W mode, 200 dpi, A4 Portrait)
S4 ppm/ 8 ipm (Color mode, 200 dpi, A4 Portrait)

Paper Sizes (W x L)

Max. 244 x 356 mm (9.6″ x 14″)
Min. 50.8 x 50.8 mm (2″ x 2″)
For more information or to acquire: Plustek eScan A150 Standalone Network & WiFi Document Scanner
About Plustek
A high-quality scanner and security device manufacturer, Plustek Inc. operates in more than 20 counties around the word. For more information, please visit www.plustek.com/usa