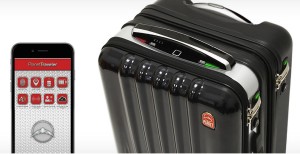 Since the recent changes to travel regulations around luggage, I have been on the look out for new suitcases that will meet the size requirements of the airplane.
Luggage size, durability and intelligence were the key factors that went into my purchase decision criteria. Yes Gizmo readers, you read it correct. I am looking for smart luggage. As with many other devices, intelligent technology has become a key criteria in suitcases. That is why I was very happy to read about the Space Case 1 smart suitcase from Planet Traveler.
Space Case 1 was created by Harry Shiekh, a seasoned traveler who "manages to log an average of 80,000 travel miles a year". Harry must have been the world's unluckiest traveler, because his travel woes have inspired him to put a lot of cool Gizmo accessories into his luggage.  I guess Harry must have wanted to ensure that his travel frustrations do not become yours (and mine).  His design criteria, helps to address many of my travel challenges.
For my trips to Mumbai and Paris, where I have experienced and seen co-ordinated thefts in action. This cool device has many key security features including a Digital Bio Lock that unlocks your suitcase with the touch of a finger and a Anti-theft alarm that acoustically sounds when your baggage has been taken out of your close proximity. For the more subtle tracker Space Case 1 will allow you to receive a text when your luggage arrives, or it leaves your area.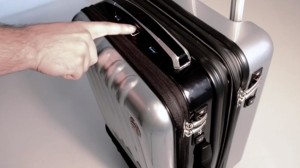 For those trips when your flight gets delayed or for long transits, the Space Case 1 has a built in high quality Bluetooth speaker to make sure the weary traveler is kept amused. To make sure your business continues, even while you wait the Space Case 1 comes with a 12,000 mAh Power bank. The 2 external USB charging ports, 1 USB charging port in the front pocket provide you with ports to be able to charge your smart phone or tablet.
To ensure that no matter where you are, you know where your luggage is the Space Case 1 has a built in Global Tracker that allows you to Trace your bag. This way you know for sure with your (IOS, Android) smartphone app, that your luggage has gotten more air miles when the airlines accidental loses it.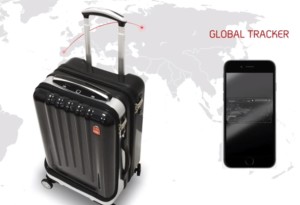 To make sure that you (and your luggage) get on the plane on time, the the Space Case 1's Personal Concierge app provides you with up to date On demand information for departure and arrival times & gates, book flights, hotels, car rentals and more.
And once you have arrived at the airport, the Digital Scale feature will make sure you know how heavy your suitcase is, even without you lifting the case. The Space Case 1 is now available for preorder on Kickstarter.
Thank you Harry Shiekh for this great device. I hope Harry's travels in 2015 are pleasant.  I know the Space Case 1 smart suitcase will help to convert my travel nightmares in to dreams.  Sigh, if only Harry could address the size of the leg room on the aircraft.
Features / Dimensions

Dimensions:

Carry-on (19.5"/49.5cm)
Check-in (29"/73.6cm)

Features:

Digital Bio Lock
Global Tracker
Digital Scale
Power Bank
Bluetooth Speaker
Proximity Sensor Anti-theft
Personal Concierge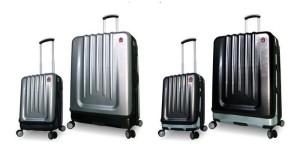 Specifications
Ports: 3 USB
Designs:

Polished Silver
Polished Pink
Polished Black
Artist Collaboration – Prado "In Love"
Artist Collaboration – Prado "Butterfly Fusion"
Brushed Aluminum Texture
Raw Carbon Fiber Texture
Speckled Canvas Texture

Warranty: 10 Year with 24 hour repair worldwide
Cloud protection – Take an image of the damaged part and automatically submit a claim
Smartphone app control (IOS, Android) of all functionality. Smartwatch interface
Status: available for pre-order on Kickstarter in May 2015
For more information or to acquire: Planet Traveler Space Case 1 Smart suitcase