Whether you are traveling for business or for vacation, having the right tech devices is critical. In addition to my tablet and smartphone , my travel list includes my hotspot, camera, blue tooth speaker, portable projector (for movies) and of course an amazing portable battery to power my gadgets.
When choosing a battery for traveling, it is important to look at its size, charging time, power, and convenience. Whether you're on a long flight, out camping for the weekend or even on a day trip at the beach, you'll want to have confidence that your electronic devices will work when it's needed.
This is why the Lepow Virtue Heart 9000mAh External Battery tops my list when it comes to powering my devices on the road.
At the size of a deck of cards, the Virtue will not take much space in your travel bag. At about 7.2 ounces and bright orange, the Virtue is easily seen, but not felt in your bag.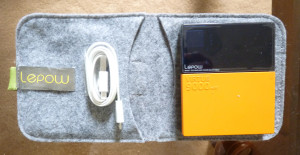 Although very small and lightweight unlike most external batteries that typically charge phones alone, the Virtue is capable of powering gadgets including your smart phone Tablets, hotspots and pocket projectors.
Lepow designed the Virtue with a interactive translucent Glass enclosure which enables you to determine how much juice is left in the battery. Simply tap the corner of the black touchscreen to easily check the battery life, and a blue LED light in the shape of a heart will appear. The heart breaks down into four segments with each one representing 25% battery. The Lepow S+ technology prevents overheating, over-charging, excessive discharge and short-circuiting of all kinds.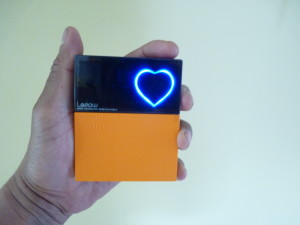 In combination with my multi-headed USB cable, the Lepow Virtue can be considered to be the Swiss Army knife of external battery. While going away, one thing is certain. I won't leave home without my Lepow Virtue.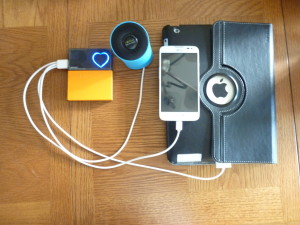 Features
Dimensions:3.6″ x 3.6″ x 0.8″
Weight: 7.2 ounces
Battery Capacity: 9000 mAh
Battery Type: Lithium Polymer
Colors: Orange
Input: 1.5A
Output: 2.1 A
Compatibility: All phones and Tablets
For more information or to acquire: Lepow Virtue Heart 9000mAh External Battery
About LePow
Lepow is a global brand built upon one concept: Make Technology More Enjoyable. With refreshing ideas and awe inspiring industrial designs we set out to revolutionize the mobile accessories industry.