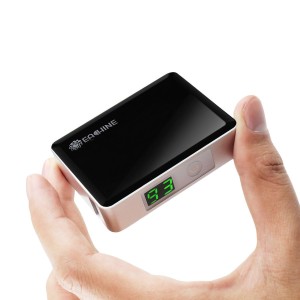 Our busy lifestyles these days mean we want to keep talking, emailing, surfing while we on the go.
The Eachine Mini Y5 600mAh battery will ensure you're always powered up even when you're on the move. Connect your device to this compact and lightweight charger and you're good to go. Literally plug and play.
The Eachine Y5 is the world's smallest external battery with LCD screen. Whether iPhone or Android, Bluetooth or wired speaker, PDA or PSP, hotspot or cool MP3, the Eachine Mini Y5 will provide the juice to power your gadgets. Compatible with most smartphones and other gadgets, this portable battery pack via USB. Unlike other batteries, the LCD screen will ensure that never again will you have to guess how much power is left in this portable device. Small in size, light weight, sleek and sexy, however powerful enough to charge your iPhone iPhone 6 x 2.15 times and your iPhone 5s x 2.5 times.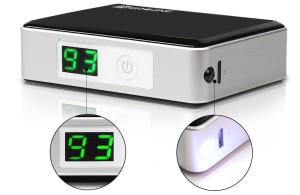 The Eachine, Mini Y5 leverages smart power charging via an high- Intelligent chip. The same advanced power design ensures the battery pack charges but will not harm your device. No over-charging. NO over-discharging, No over-loading. The Eachine Mini Y5 6000mAh Power Bank will automatic shutdown if a short circuit or overload output occurred while unit is charging.
So feel confident that no matter how busy your life is, the Eachine, Mini Y5 will be able to keep up with you.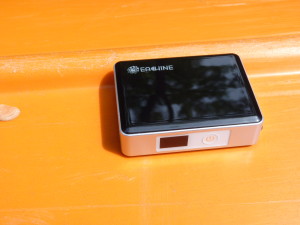 Features
Dimensions (L x W x H): 2.8 x 0.79 x 2.13 inches
Weight: 4.48 ounces
Battery Type: Lithium Ion
Capacity: 6000mAh
Input : 5V/2A
Input : 5V/2A
Charging time: about 3 hours to be full (with 2A power adapter)
Cycle life: > 500 times
Compatible Devices:
iPhone: 6, 6 Plus, 5C, 5S ,5, 4S, 4; iPad 2,mini Air, the new iPad and iPods, (Please use your own cable)
HTC: One Max X V S Sensation XE XL Thunderbolt EVO 3D EVO 4G Evo Shift 4G
Samsung: Galaxy S4 S3 S2, Galaxy Note 2 / Motorola Droid RAZR MAXX / HTC One X V S;
Other Devices: Nexus 7 , PSP / Nexus 10 etc.
For more information or to acquire: Eachine Mini Y5 6000mAh Power Bank with LCD (Black)
About Eachine
At Eachine, we are committed to investing in R&D to supply products and services that exceed customer expectations .