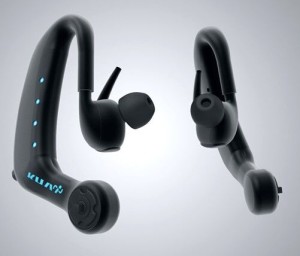 Looking for the ultimate in training partners? Well Kuai has developed the the world's first multi-sport biometric headphones that will help you to achieve and exceed your fitness goals.
This sports headset is a heart rate monitor, foot pod, sport watch, music headset and virtual coach. Waterproof in up to 3 meters, this device is targeted for running, cycling, swimming and triathlon enthusiasts. Unlike traditional headsets that either require a smart phone to control or have the buttons in in-optimal positions, the Kuai sports headset was designed to offer ease of use including:
Two Navigation Switches
Control Like A Joysticks
Right Side Control The Sport Features
Left Side Control The Music And Calls
Perfect For Sport
Easiest Menus To Operate
Works Great Under Water
What I like about these headphones is that you get instant feedback when you are working. You can not only hear Your Biometric Data While Listening To Music but the information you get is provided via Live Voice Feedback Users can access their sport data and control all features using Kuai free mobile apps for iOS and Android or desktop apps for PC and MAC. And they may choose to export the data in .FIT to any popular fitness app like MapMyFitnes, Strava or Garmin.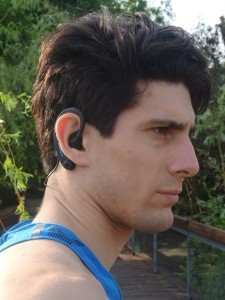 From an engineering standpoint Kuai includes custom ear tips for different sports to ensure a secure fit. It is sweat and waterproof (up to three meters), can operate autonomously using its 8GB of memory and MP3 player, or connected to mobile devices using Bluetooth
Currently Kuai has working prototypes that biometric data collection, live voice coaching, BLE & ANT+ connections, music player and switch controls. They are looking for Kickstarter backers to help launch the product. The Kuaiwear team isn't raising money to research an idea or develop a concept. They're already far beyond those stages and are ready to begin manufacturing.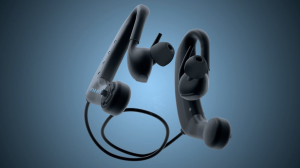 Features
Colors: Black, White or Limited Edition (Kickstarter) Green
Internal Memory: 8GB
Battery Life: 5h
Waterproof: Sweat Proof and waterproof up to 3 Meters
Performance data: Heart Rate, calories, VO2 Max, Distance, Cadence, Speed/ Pace
sports: running, cycling and swimming
Status: Kickstarter campaign runs from June 9, 2015 to July 9, 2015
Ship in November
For more information or to acquire: Kuai sports headset
About Kuaiwear
Based in Shenzhen, China, Kuaiwear is a team of experienced marathoners, triathletes and Ironmen with backgrounds in electronics, software and business. The desire to exercise more efficiently drove the team to create Kuai, the world's first multisport biometric headphones, using clinically validated technology to provide the most accurate biometric data. Kuai is waterproof up to three meters and combines a heart rate monitor, foot pod, sport watch, MP3 player and virtual coach into one device. Kuai accurately calculates heart rate, VO2 max, calories, cadence, distance, pace and speed in land and water. The biometric headphones can operate autonomously or connected to other devices using BLE or ANT+, and feature voice feedback and configurable voice alerts, professional training plans, custom ear tips for different sports and the ability for users to answer phone calls.