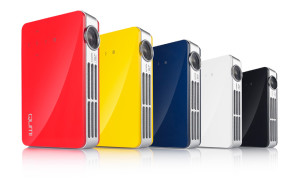 In many ways family time has changed. Gatherings have been transformed from sitting around the TV, to streaming ultra HD and 3D content.
Our friends at Vivitek have developed the Qumi Q5 portable projector that will take family gatherings out of the living room on to where ever the family is gathered.
Having purchased the Qumi Q5, I love the flexibility it provides the end user. Small enough to slip into your back pack, light enough to hold in your hand, yet powerful enough to connect to your smart phones, laptops, netbooks and tablets, digital and video cameras. A great device to extend movie night for those summer camping trips.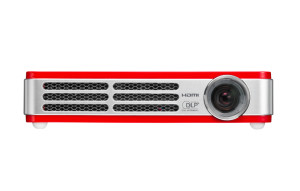 Available in a variety of sleek and stylish colors including blue, red, yellow, black and white. However don't let the bright colors and light weight fool you. The Qumi Q5 is also a wonderful accessory for business trips. Perfect for sharing digital content anywhere.
The Qumi Q5 has 4GB built-in memory and USB port for memory expansion to display content without a PC. It is also 3D-Ready via DLP Link.  The Qumi Q5 has Wireless Capability, however this is a feature I have yet to try out.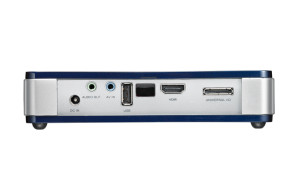 For consumers, there has never been so many options built into such small technology. There has never been a better time to buy a pocket projector.
Features
Dimensions (W x H x D) 6.3" x 1.3" x 4.0" (162 x 32 x 102 mm)
Weight 17.3 oz (1.1 lbs)
Colors: blue, red, yellow, black, white
Power

Supply: AC 100-240V, 50/60Hz
Consumption: 65W (Boost Mode),

Brightness Up to 500 Lumens
Contrast: 10,000:1
Resolution:

Native Resolution WXGA (1280 x 800) HD 720p compatible
Max. Resolution UXGA (1600 x 1200)

Projection Distance 3.3′ to 9.9′ (1.0 to 3.0 m)
Aspect Ratio 16:10 Native, 4:3 & 16:9 Compatible
Speaker 2W Mono
I/O Connection Ports HDMI, Universal I/O (24-Pin Connector for VGA/Component Input), AV Mini -Jack, Mini -Jack Audio-Out, USB (Type A)
Optional Accessories Battery Dock, Wi -Fi USB Dongle
For more information or to acquire: Vivitek Qumi Q5 Pocket Projector
About Vivitek Corporation
Vivitek is a leading manufacturer of visual display and presentation products. The company's extensive line-up of award-winning digital projection devices incorporates the latest innovations and technologies to deliver superior products. Vivitek has global sales and marketing operations in North America, Europe and Asia.