Looking for the ULTIMATE OUTDOOR GADGETS to take with you on your ULTIMATE OUTDOOR ADVENTURE  ?
Well my suggestion is to start with your battery which is the bread and butter of most tech. The myCharge All Terrain and All Terrain Plus are the power solutions for your Tech in the wild.
Having lost a few batteries accidentally due to rain, dust and the pounding of the outdoors, I love theses batteries. These military grade chargers are capable of withstanding drops up to three meters, temperature proof and dust proof.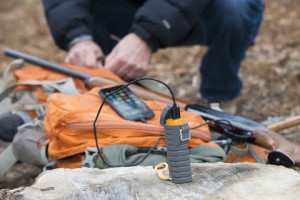 The insulated and rugged-ized exterior case with a flip lid that latches closed to seal off ports. However they are also waterproof for up to one hour at depths as great as two meters deep.
The rugged myCharge All Terrain power series will ensure that when you run out of power, your gadgets don't. Compatible With Audio Output Of iPod / iPhone, Smartphones, And MP3 Players, the proprietary myCharge hyper-charge solution built into both the All Terrain and All Terrain Plus ensures ultra-fast charging of your devices, up to 65% faster than competition. The All Terrain has a single usb port while the Terrain Plus has a dual solution. Each port provides 2.1A of output power which is perfect to charge your tech, providing you with an additional 22 extra hours of power.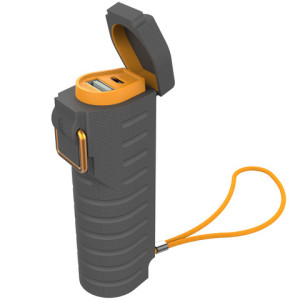 Features
Product Dimensions: 4.0 in x 1.5 in x 1.1 in
Product Weight: 0.22 lbs.
Battery: Lithium Ion available in

3000 mAh (All Terrain)
6000 mAh (All Terrain Plus)

Output:

All Terrain: 1 x USB port
All Terrain Plus: 2 x USB port
Each USB port delivers 2.1A output
Compatibility: Smartphones & USB Devices

Recharges via: micro-USB cable
Price:

All Terrain retails for $39.99
All Terrain Plus retails for $59.99
For more information or to acquire: myCharge All Terrain and All Terrain Plus
About myCharge
myCharge, innovators in portable power create the ultimate portable power solutions for anyone, anywhere who needs to stay charged. Incorporating the highest quality components, cutting-edge design, and smart technologies, myCharge responds to the latest technological advances by providing products dedicated to restoring everyday balance and fulfilling consumer needs in today's on-the-go, always connected, digital society.