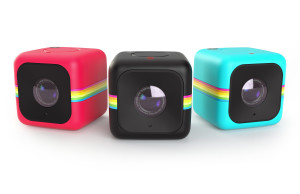 From the company that has been delivering smiles for more than 75 years comes the new affordable Mini Action Camera.
The Polaroid Cube+ is a 35mm (1.4″) 1080p HD video camera. Enveloped in a rubberized body this digital recorder is Weather proof. Able to resist the occasional light rain but not capable of withstanding a swim, the Cube+ can be taken almost anywhere. The Cube+comes with WiFi connectivity that allows the user to control and connect to the camera from an iOS or Android device.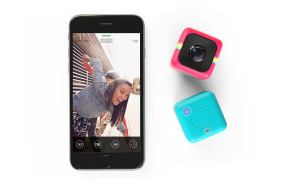 The features I love about the Polaroid Cube+ are mounting magnet that enables you to stick this camera to any metal surface including your bike, helmet or car roof. Also the 124° wide-angle ensures that you will get almost everyone and every thing into your next snap. The Cube+'s One-Button operation allows intimidate recording start and stop.
Cost conscience in design and price the Polaroid Cube+ is an affordable alternative to other action cameras on the market. The Polaroid Cube+ will be available in August for $149.99 in the original Polaroid Cube Red, Blue, Black Cube colors . The new Pink and glow-in-the-dark Green versions will be available in late August for $99.99.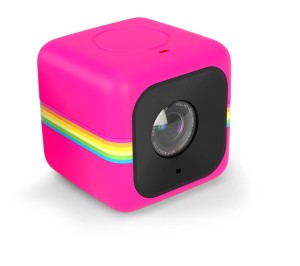 Features
Dimensions: 35mm (1.4″) square
Sensor: 8 Megapixel
Lens: 124º wide angle
Wi-Fi capabilities
Cube+ App: Available free to download for iOS or Android devices
Colors: Red, Blue, Black, Hot pink (New), Glow-in-the-dark Green (New)
Video capture resolution: 1920 x 1080; 1280×720 (30FPS); MOV format
Still image resolution: 6 megapixels; JPEG format
External memory: support Micro SD card, up to 32GB
Output: Micro USB 2.0
Battery & power: built in Lithium ion battery (included)
Battery Time: 90 Min
For more information or to acquire: Polaroid Cube+ mini HD Action Camera
About Polaroid
Polaroid has been a trusted global brand for more than 75 years and is best known for pioneering instant photography since Edwin Land first conceived of the instant camera in 1943. We embrace the nostalgia inherent in our past, allowing us to embrace old technologies through new technologies and beyond.