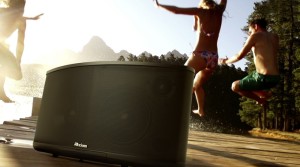 In recognition of yesterday, Canada Day we highlight a small company that is looking to dramatically change the way we listen.
Canadian based Axiom made its reputation by achieving unprecedented performance quality for over thirty years. Their latest remarkable sound sensation is the AxiomAir Wireless Speaker.
In comparison to their Bluetooth cousins, Wireless speakers have a different approach to addressing stingy audiophiles. AxiomAir creates its own hotspot so you can take the speaker anywhere. Simply turn it on and either connect it to your network or leverage it as a Wi-Fi® hotspot. The AxiomAir Wireless Speaker provides acoustic elegance by enabling the end user to play high-res songs wirelessly – up to 24/192 – without compression.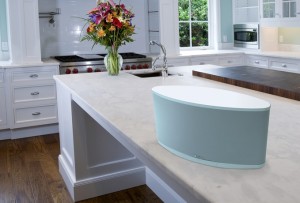 Bluetooth® is made to transmit voice from your headset to your phone – not to carry full-spectrum high-resolution sound. Using a Wi-Fi® network instead means you've got three times the usable range of Bluetooth®. What does that extra bandwidth translate for you and me? For consumers listening to music, this means that not you can control what, where and how you listen. Your music will sound deeper, richer, as if it was a high definition sound.
In addition to sounding great, Axiom has also designed a device that will look sensational where ever you you place it. With a compact design, the new Shape AxiomAir Wireless Speaker comes with interchangeable, paint-able and personalized lids that will ensure it looks great in your house or out on the beach.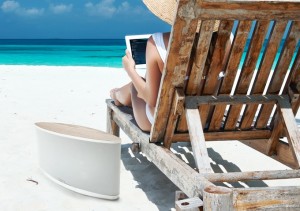 For traditionalists, three USB interfaces are also available to connect and play your music on the flash.
With a compact stylish design and great sound, the AxiomAir Wireless Speaker is one of the best-sounding and best-looking portable wireless speaker.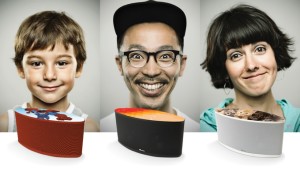 Technical Specs:
Dimensions: LxWxH 6.75 " x 19.5 " x 9″
Weight: 16 lbs
Operating System: Linux-based Operating System
Amp Power (continuous RMS): 150 watts
Battery Power: optional 9 or 18 hour built-in battery
Colors:

Body: black on black, or white on white
Lid : Interchangeable, paint-able, hundreds of personalized finishes

Connectivity: Wi-Fi® , USB interface
Axiom Air App: Available for IOS and Android
Woofers: Dual 6.5″ Aluminum Cone
Tweeters: Dual 1″ Titanium Dome
File Formats Supported

FLAC, WAV, MP3, AAC, ALAC, M4A, OGG, and PLS

Cost: $475 for the first 200 supporters
Shipment: October 2015, currently looking for Kickstarter funds
For more information or to acquire: AxiomAir Wireless Speaker