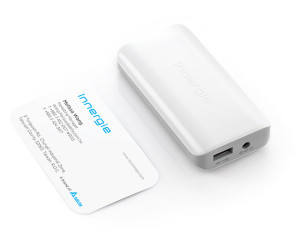 With increased travel restrictions on baggage weight and sizes I am always looking to decrease the size of my electronics in my carry on.
At NY last week I happened to stumble upon the Innergie PowerGear 65 Universal Laptop Adapter. At the size of a deck of cards, this device is small and lighter than your traditional Laptop Adapter.
However don't let the size of the PowerGear 65 fool you. It delivers 65W of continuous power and a DC output of 19V. It also protects your laptop against the dangers of power surges, short circuits, over temperature faults.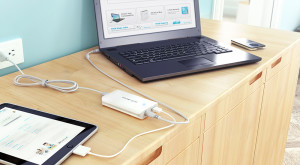 Innergie provides the consumer with 9 interchangeable tips.  This ensures that the PowerGear 65 is compatible with more than 16 brands of laptops including Dell, Toshiba, Acer, HP, Sony, Lenovo and more.  If by chance none of the standard provided tips fit your laptop, Innergie can be contacted for a FREE compatible tip to be sent to you.
In addition to charging your Laptop the Innergie PowerGear 65 also has an built in 2.1A USB output charging port that is capable of fast charging any smartphones, tablets, and other mobile devices.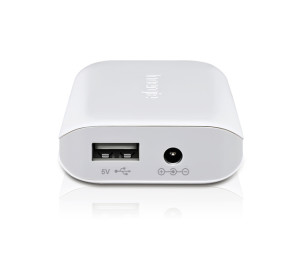 Small, light and powerful, a great travel companion. What else could I ask for?
Features
Dimensions: 3.9 × 1.8 × 1.2 inches
Weight: 7 ounces
AC Input: 100-240V AC / 1.5A 50-60 Hz
DC Output: 19V DC / 3.42A
Output Port: 1 USB Port with 2.1A
Colors: Black, White
Compatibility: more than 16 laptop brands including

Acer / Gateway A, G, L
Asus A, L, N
Dell C, G
Fujitsu A, E
HP / Compaq A, F
Lenovo / IBM A, D
LG / MSI / NEC A
Panasonic A, E
Samsung J, L
Sony E
Toshiba A
For more information or to acquire: Innergie PowerGear 65 65W Universal Laptop Adapter
About Innergie
Innergie, a brand of Delta, is a leading provider of consumer power products and power solutions. Launched in 2008, Innergie builds on the innovation of Delta Group, a world leader in power management with over 40 years of advanced technical experience.