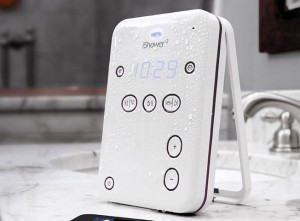 In many ways, technology gadgets are in transition. Take for example something as simple as your shower. Traditionally tiles, soap and water, it has now evolved to include Bluetooth and Smart Devices. For consumers there has never been a better time to Gadgetize your home.
With the success of the iShower, Connecticut based iDevices® has proven to consumers that it knew how to design an affordable, high-end device that fit well in your bathroom shower.
The clean, light weight and sleek looking iShower2, extends your smart phone or music technology. After mounting the iShower2, you would simply have to pair your device and voila you are ready to listen, sing or even take a business call while soaping up.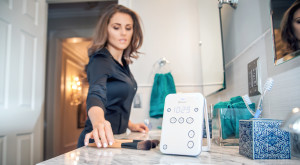 Bluetooth® up to 200 feet away and water-resistant, the iShower2 ensures your music gets out, while the water doesn't penetrate in. The iShower2 works on 3 AA batteries which last it up to 25 hours of continuous play.  Unfortunately for others in my house that means of 25 hours of shower singing.
Outside the technology features I love how the iShower2 looks in the bathroom. Easy to mount and set up and easier to operate with the large on-device control buttons. Play, pause, skip, replay tracks and answer or ignore phone calls.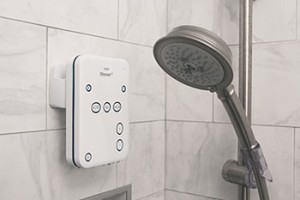 Designed with an unmatched Bluetooth range and amazing battery life, this perfect companion for your smart devices, will have you spending more time in your shower.
Features and Specifications
Dimensions: L x H 3.6 x 5.9 x 8 inches
Weight: .8lb (12.8oz)
Battery: 3 AA batteries required. (included)
Compatible with most Bluetooth-enabled smart devices
Battery Life: 25 hours
illuminated clock display
Water Resistant
Range: 200 feet
Devices: Pairs up to 5 users
Receives phone calls
On device controls
For more information or to acquire the: iShower2
About iDevices®
Based in rural Connecticut, iDevices® is the premier brand and partner development company in the Internet of Things industry. iDevices aims to seamlessly connect users to their worlds with responsive products that enhance everyday life.