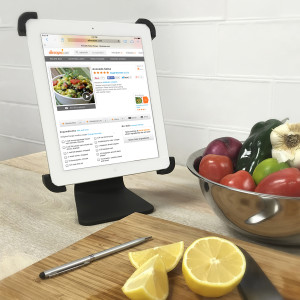 Gizmo readers, one of the key battlegrounds in the smart house evolution is the transformation of the kitchen.
Many new innovative high tech products have been introduced in the typical kitchen. Whether it be smart cooking appliances, or fabulous Wi-Fi fridges that let you know when you are low on butter. For many consumers, the tablet is still a low cost technology alternative for their kitchens.
In order to accessorize their choice, the the NewerTech Kitchen Kit iPad stand and stylus bundle will enable you to safely utilize your iPad.  "NewerTech is dedicated to giving our customers quality products that add convenience to their lives," said Larry O'Connor, Founder and CEO, NewerTech
The NuStand 360 iPad holder rotates 360 degrees and pivots up and down Simply mount your iPad on the the NuStand 360 and feel confident that the heavyweight base with rubberized feet, will support your iPad, while you cook.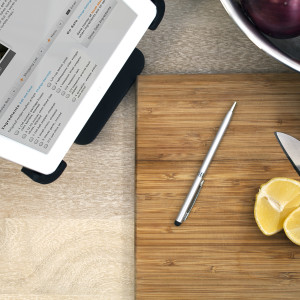 The NewerTech NuScribe Stylus will ensure that while your hands are getting dirty, you will not get flour on your screen. The combination twist-barrel pen and touch screen input stylus will provide you with precise navigation, note taking, and page turning.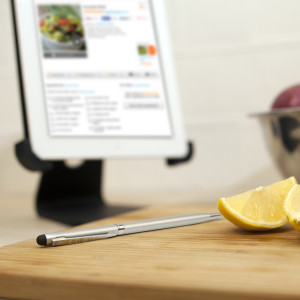 Features and Specifications
Dimensions: HxWxD 12" x 8" x 5.5"
Weight: 1.6 lbs. / 0.7 kg
Compatibility: iPad 1st, 2nd, 3rd, 4th Generation
Rotates 360 degrees.
Black aluminum NuStand 360 desk stand.
Holds all full-sized iPads (original to 4th generation).
Stylus

Dimensions: LxD 5.3″ x .3″ x
Weight: 28.3 g / .5 oz
For more information or to acquire the: NuStand Kitchen Kit for the iPad
About NewerTech, Inc
NewerTech Inc. creates performance upgrades and accessories for Macintosh and PC computers, iPods, iPhones, and iPads, and is headquartered in Woodstock, Illinois.